Custom Power Banks Are the Ultimate Promotional Product for Businesses
Studies have shown that promotional giveaways increase brand recognition and leave recipients with a positive opinion of the brand. Sunrise Hitek's customizable Power Banks are the ultimate promotional product for businesses https://www.sunrisehitek.com/product/usb-power-bank.
Press Release
-
Sep 7, 2016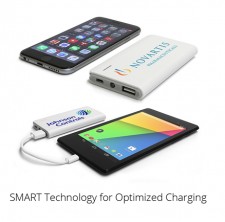 Chicago, IL, September 7, 2016 (Newswire.com) - According to an article on Biznology.com, 90% of recipients use a promotional product they received at least once a week, 10% of recipients pass a promotional product on to family or friends, and 87% kept a promotional product for more than a year. Click to read full article. This means that corporate giveaways definitely are worth the investment. Considering the 90% that use the promotional product at least once a week, that means weekly others will be seeing them use the product and therefore seeing the brand on the product.
In comparison to other traditional advertising efforts, promotional items are a better investment. The aforementioned Biznology article asserts that: 4% of recipients made a purchase after viewing a print ad, 1% made a purchase after watching a television commercial, and 6% made a purchase after seeing an online ad. When comparing costs of a television ad to that of a promotional item, the promotional item is significantly less cost and also is something tangible for the potential client to see.
Sunrise Hitek offers a wide variety of customizable products for businesses. One of their newest products is the Power Bank 5000 (https://www.sunrisehitek.com/product/usb-power-bank). Using the same type of high-density lithium-ion polymer battery as Apple's iPhone, this USB battery pack is compatible with all USB powered devices on the market, including Apple, Samsung, LG, HTC, Sony, Motorola, and more. SMART circuitry communicates with the device of choice and provides optimal charging.
Power Banks are an item that can be used daily. Everyone has a phone and/or a tablet that needs charging. Sunrise Hitek's Power Bank 5000 is fully customizable with any full color artwork. The Power Bank 5000 is 29% smaller and 27% lighter than an iPhone 6. These chargers also feature a 4-level power indicator and an LED flashlight. These are definitely a cut above the usual pen, tee-shirt or keychain giveaway.
About Sunrise Hitek Group, LLC.
Sunrise Hitek (https://www.sunrisehitek.com) is an Inc. 5000 company established in 1988 and employs the most advanced equipment and technology, such as G7-certified HP Indigo and UV flatbed presses, laser engraving, and digital die-cutting, to create best-in-class color printing, short-run packaging, P.O.P. retail displays, and signage products. A privately-owned enterprise, the company is based in Chicago and sells products worldwide.
Source: Sunrise Hitek Group, LLC
Share:
---
Categories: Advertising, Business Technology, Small Business
Tags: corporate giveaway, free advertising, giveaway, promotion, promotional items, ROI
---