Custom Package From the North Pole Arrives for Sarasota 6-Year-Old
The first-grader received a box from Santa Claus himself, with help from Holiday Printables
Press Release
-
updated: Dec 8, 2016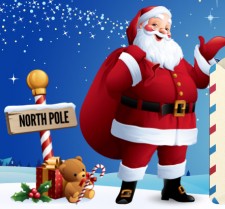 Sarasota, FL, December 8, 2016 (Newswire.com) - Sandy Tinsel, a bright Sarasota first-grader, received the surprise of a lifetime when she opened a package delivered to her doorstep last week. The 6-year-old opened a box from the North Pole containing a map from Santa's Workshop to Sandy's house, a copy of the Nice List with the her name on it, a personalized Nice List certificate, a pinch of reindeer food and a personalized letter from Santa Claus himself.
This year, Santa is writing these personalized letters and sending Christmas packages from the North Pole to all good boys and girls in the United States with the help of their parents. Sandy, a student at Riverside Elementary, was among the first to receive a package from St. Nick, and her father says she's been showing all her friends and neighbors.
"It's really heartwarming to see her reaction. We knew she would be excited to get her package from Santa, but we couldn't have imagined the level of joy in her heart," said Joseph Tinsel, Sandy's father. "A few days later, her best friend received a package from Santa too, and the two of them cannot stop talking about it!"
This time of the year, Santa's elves are working hard to finish building this year's toys in the workshop. The jolly old man himself has been spending his days stationed at his desk, drinking milk and munching on warm, fresh cookies while routinely checking his website and scrawling away to make sure he sends out the letters to all the good boys and girls before December 25th rolls around.
Santa Claus and his team of elves are collecting information from parents, such as each child's name, the name of one of the child's friends and the child's mailing address, in order to send an exclusive package from his home at the North Pole. To share this information with Santa before his December 12 deadline, parents can visit MagicalXmasLetters.com.
About Santa Claus
Santa Claus, also known as Father Christmas, Kris Kringle, Saint Nicholas and a variety of other names, has been a central figure during the holiday season for centuries. He spends his days working with his elves to make toys for children on the Nice List, tending to his reindeer – Dasher, Dancer, Prancer, Vixen, Comet, Cupid, Donner, Blitzen and Rudolph, and spending time with wife, Mrs. Claus. Lately, he spends much of his time before Christmas writing personalized letters to children on his Nice List. He is most well-known for his annual flights around the world each Christmas Eve, during which the reindeer guide his sleigh to the houses of good boys and girls, where he delivers Christmas gifts. For more information, contact Chief Elf Officer Bill Mistletoe.
Source: Holiday Printables Inc.
Share:
---
Categories: Retail, Children's Issues, Family
Tags: Christmas, elf, elves, good boys, good girls, nice list, north pole, presents, reindeer, Saint Nick, Santa Claus, Santa letters
---