Custom Face Masks - the Ultimate Custom Product for 2020
Press Release
•
updated: Jul 6, 2020
Custom Face Masks - the best print-on-demand product of 2020. Read how Qstomize reinvented the custom face masks market and supplies bulk and wholesale custom face markets to top brands and organizations.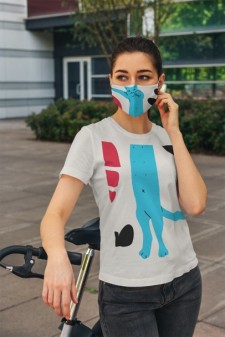 REHOBOTH BEACH, Del., July 6, 2020 (Newswire.com) - Qstomize, a seller of custom face masks and other unique custom products has made custom face masks for some of the world's leading brands looking to protect their workers and also keep their brand visible and associated with protection.
Due to the COVID-19 pandemic that has ravaged the globe, the popularity of buying face masks has exploded, but up until now, it has been nearly all surgical and medical face masks that medical professionals use. Now companies are using their budgets allocated to promotional marketing to make custom face masks for their employees and workers.
In some cities and states across America, many businesses are returning to work but utilizing protection measures to keep their workers safe from catching COVID-19. Businesses often provide protective face masks to their workers but often times the face masks lack variety and it becomes difficult to identify workers when every employee is wearing the same standard face mask.
With custom face masks, organizations and businesses can both protect their workers and have fun with the dire consequences affecting billions of people worldwide. The possibilities for custom face masks are truly endless: funny faces, logo printed, masks printed by department or symbol, or even the person's real face can be printed on the face mask, giving them what seems to be a permanent smile. Whatever a person wants to print on a custom face mask they now can.
Custom face masks are available in a large amount of varieties: from small to large sizes that fit both kids and adults, elastic and cloth face masks, and even full print custom face masks. The selection and variety of custom face masks available make something available for everyone.
But custom face masks are not just for businesses and brands. Custom face masks can be made also for private customers and small families. Family gatherings may be a little more awkward this year with social distancing, but even if we can't see each other's faces, we can still find a unique way to identify each other.
Personalized face masks can even be used in public as a fun way to grab attention and stand out from the crowds. If you're in one of the few public places that are open, everyone will notice the unique custom face mask that is truly one of a kind!
To submit an order with Qstomize visit their website or contact their support at support [at] qstomize.com for more information.
Source: Qstomize.com
Tags
Additional Links