Cryptoconomy Summit Announces Date Change for Their Inaugural Event
Cryptoconomy Summit announced that their inaugural event, originally scheduled for March 28-29, will now be held May 10-11, 2018. It will still be held at the Tampa Convention Center in the port city of Tampa, Florida.
Press Release
-
updated: Mar 21, 2018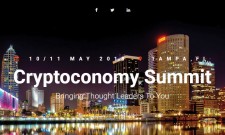 Tampa, Florida, March 21, 2018 (Newswire.com) - Originally slated to take place on March 28-29, the Cryptoconomy Summit has made the decision to postpone their event until May 10-11, 2018 with the opening networking cocktail reception and speaker meeting in the Crypto Lounge taking place on the evening of May 9th. The team did not take this decision lightly. The decision was made after a lengthy discussion with all involved, because of a major conflict being caused by a massive concurrent event in a different venue, as well as to accommodate representatives from regulators, and other opportunities that were presented to the team within the local Blockchain and Crypto community.  
This change enables them to bring on a few big name speakers to add to their already impressively diverse line-up of men and women. The CEO Shane Liddell states "Diversity is something we are very proud to spotlight at our Summit. Our focus from the very beginning has been to embrace a very diverse and inclusive line-up of all-star speakers, with a strong focus on what they bring to the table, and what they can offer the audience."
So far their change has been greeted with mostly positive reactions. They have secured ballrooms A through C at the Tampa Convention Center with the option of taking Ballroom D if needed. The new dates are on a Thursday and Friday, rather than midweek, which is an added bonus for the team as well as the attendees. They plan to kick off the event with a networking cocktail party on Wednesday night, and have several surprises up their sleeves to make the event even more exciting than originally planned. They will end the Summit by bringing in one of Tampa Bay's hottest bands for their closing party. More details can be found on their website and social media pages.
About Cryptoconomy Summit:
The Cryptoconomy Summit is an event organization that hosts bi-annual summits within the United States and as well as international summits. The Cryptoconomy Summit highlights a very diverse and inclusive line-up of all-star speakers, with a strong focus on what the speaker brings to the table, and what they can offer the audience. Their inaugural event is hosted in Tampa Florida during Spring 2018, with the first international event planned to take place in London, United Kingdom during the summer of 2018. They focus on the rapidly growing world of the cryptoconomy.
For more information about Cryptoconomy Summit Click Here
To contact via email: info@cryptoconomysummit.com
LinkedIn: Click Here
Source: Cryptoconomy Summit LLC
Share:
---
Categories: Conventions, Trade Shows, Meetings and Events
Tags: bitcoin, blockchain, crypto summit, cryptoconomy summit, cryptocurrency, cryptoeconomics, deregulated, ethereum, tampa, tampa convention center
---