Crosstown Solutions Allies With Nonprofit to Change Lives
Jarrad, President of Crosstown Solutions, announced a partnership with Generations Nigeria, an organization he co-founded with his cousin that helps African Americans connect with their histories.
Press Release
-
updated: Aug 5, 2019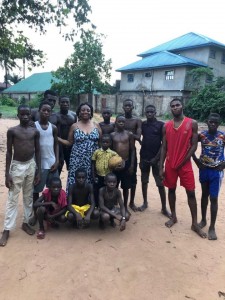 LONG ISLAND CITY, N.Y., June 21, 2019 (Newswire.com) - According to Jarrad, Generations Nigeria was founded with the careful purpose of helping African Americans connect with their ancestry, and with a simple mission: Bridging the Gap. Through this one-of-a-kind firm, clients have the unique chance to learn more about their African heritage, while also giving back to the less fortunate in the villages their ancestors left. While it's not the normal telecom business with which Crosstown Solutions usually partners, Generations Nigeria is dedicated to improving the lives of others, and supporting their cause helps Jarrad's team live out the company's values, like philanthropy. 
"To many people over here, they are just another black person, but where they come from [in Nigeria], they are kings and queens," stated Generations Nigeria cofounder Folabi Clement Solanke. "We help them discover this, and then we help them fulfill their sacred responsibility and help their villages live a better life."
Crosstown Solutions' President on the Trip That Inspired Him to Create Generations Nigeria
Generations Nigeria began when Solanke and Crosstown Solutions' President, Jarrad Nwameme, took their first trip back home to their ancestral homeland of Nigeria. Both first-generation Americans, neither had ever thought much about their heritage. But what they found during their travels was eye-opening. "I saw the conditions the children in the village my family was from lived in," Jarrad said. "They literally couldn't afford running water or shoes; it helped us realize how lucky we were to have lived such privileged lives."
"Right there we learned that we had a responsibility to give back to those children and help other first-generation African Americans do the same, and discover their ancestry in the process," Solanke shared. "We have to do our part to give them a better life…because that's what we were lucky enough to have."
The two men are planning another visit to Nigeria soon. They will be visiting the village of Mgbidi in the state of Imo for 10 days during the months of August and September. "I see Generations Nigeria making a huge impact through sports, education, music, mentorship, sustainability, and agriculture," declared Jarrad. "I see us providing hope for Africans to have the same resources we Americans have." Jarrad invites anyone who is interested in learning more about Generations Nigeria, or in helping his company Bridge the Gap, to visit the Crosstown Solutions website for more information. 
About Crosstown Solutions
Crosstown Solutions is a marketing and consulting leader in New York City covering every corner – uptown, downtown, and crosstown. The firm's success is a direct result of its team. The firm's people act quickly to research the services they represent and the audiences they plan to reach. Then they design outreach campaigns that capture interest when, where, and in ways to which people are most receptive. By staying on the leading edge of customer acquisitions, the team has earned a reputation for excellence. Dedicated leaders further guide their progress. Their values are evident in all they do. To learn more about their flexible services, go to crosstownsolutionsinc.com.
Source: Crosstown Solutions
Share:
---
Categories: Business News
Tags: Crosstown Solutions, Crosstown Solutions Careers, Crosstown Solutions Jobs, Crosstown Solutions Long Island City, Crosstown Solutions NY
---