Crema Di Parma Eco-Terr Tiles Are Now Featured in L'Occitane en Provence's Flagship Store!
Press Release
-
updated: Apr 17, 2018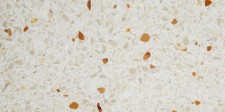 Miami FL, April 17, 2018 (Newswire.com) - COVERINGS ETC is proud to announce that our Crema di Parma Eco-Terr® tiles have been selected as flooring for the L'Occitane en Provence flagship store in Toronto, Canada. The materials were selected for their traditional style, as well as their sustainable qualities. Crema di Parma is a subtle light colored terrazzo that brings sophistication, charm and history to the spaces it occupies.
Eco-Terr® is a Future-Friendly™ natural product that enhances the aesthetic and mechanical characteristics of the high-quality materials from which it is made. Eco-Terr® tiles and slabs come in an array of colors and aggregates that range from micro to ever-increasing larger formats. Eco-Terr® is engineered from recycled portland cement and fly ash that has been saved from contaminated waterways. As well as rare recycled marble and granite chips from quarries long since closed. With no resins, no epoxys and zero VOCs, Eco-Terr® supports non-microbial growth and improves air quality. Rectified and calibrated, Eco-Terr® is easy to install and simple to maintain with a limitless life cycle.
"Crema di Parma is a classic Eco-Terr product that fits perfectly with the L'Occitane brand, since Terrazzo is a classic material that was prominently used in the southern European regions including Provence where Loccitane was founded." said Ofer Mizrahi, founder of COVERINGS ETC.
Eco-Terr® contains pre-consumer recycled content and may help contribute toward LEED® credits with USGBC project certification. Possible applications are: Flooring (R9-R12), Outdoor Terrace, Pool, Pavers, Counters, Vanities, Walls, Exterior Facades, Furniture and Industrial Design. It is Stain-Resistant, Frost-Resistant, Chemical-Resistant, Fire-Resistant and Material Health-Grade Certified.
COVERINGS ETC was founded by designer and real estate visionary Ofer Mizrahi in 1998 as an innovative source for natural, recyclable and sustainable material concepts for hard surfaces. We provide analogue materials in the digital era and products that customers can feel with all of their senses. COVERINGS ETC is a member of the US Green Building Council (USGBC) and is committed to seeking out interesting and exciting new environmentally friendly materials. We specialize in solutions for projects adhering to sustainable design and bio-architecture. The ECOVERINGS® award-­winning collection is designed using naturally occurring and recyclable materials. It It is manufactured with the concern for the environment and the conservation of earth's natural resources.
Source: COVERINGS ETC
Share:
---
Categories: Design and Architecture
Tags: classic, coveringsetc, cremadiparma, ecoterr, sustainablematerials, sustainableterrazzo, terrazzo, venetianterrazzo
---