CoveringsETC Introducing Ultra-Thin Eco-Terr®
Press Release
-
updated: Jul 26, 2018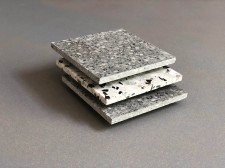 MIAMI, July 26, 2018 (Newswire.com) - CoveringsETC has been presented with a particular challenge and not an easy one to boot: the need and demand for the terrazzo look in the size of a thin tile. Requests have been so prevalent that we decided to step up to the challenge. Finally, after years of development, CoveringsETC has been able to create an ultra-thin Terrazzo that is only 3/8" thick and available in various aggregate color schemes. This custom Terrazzo is available for unique projects and will yield much interest in the A&D world and beyond.
The sought-after thin terrazzo will allow for more versatility and easier handling upon installation. This is a sustainable product with enduring quality that can be used on floors, walls and ceilings in both interior and exterior applications.
Eco-Terr® is a Future-Friendly™ natural product that enhances the aesthetic and mechanical characteristics of the high-quality materials from which it is made. Eco-Terr® tiles and slabs come in an array of colors and with aggregates that range from micro to ever-increasing large format.
Eco-Terr® is engineered from recycled portland cement, fly ash that has been saved from contaminating waterways and rare recycled marble and granite chips from quarries long since closed. No resins, no epoxys, zero VOCs. Eco-Terr® supports non-microbial growth and improves air quality. Rectified and calibrated, easy to install and simple to maintain with a limitless lifecycle.
Bespoke design options for color, aggregate and sizes are increasingly specified. COVERINGSETC Material Solutions Advisors assist and work in tandem with our clients to ensure the optimum solution for the project and to provide custom design strategies.
"We are advancing Terrazzo by creating a material that is thinner and strong as ever. Once again, we have managed to meet the demands of the industry by bringing our customers exactly what they have been requesting," said Ofer Mizrahi, founder of CoveringsETC.
People can elevate their environment with Eco-Terr®. It may help contribute toward LEED credits with USGBC project certification. Cradle-to-Cradle Silver Tier third-party certified. For more information, contact info@coveringsETC.com or visit www.coveringsETC.com.
CoveringsETC was founded by designer and real estate visionary Ofer Mizrahi in 1998 as an innovative source for natural, recyclable and sustainable material concepts for hard surfaces. CoveringsETC provides its customers with analog materials in the digital era and products that they can feel with all of their senses. It is a member of the United States Green Building Council (USGBC) and is committed to seeking out interesting and exciting new environmentally friendly materials and solutions for projects adhering to sustainable design and bio-architecture. The ECOVERINGS® award-­winning collection is designed using naturally occurring and recyclable materials and/ or is manufactured with the concern for the environment and conservation of natural resources.
Source: CoveringsETC
Share:
---
Categories: Architecture and Design
Tags: classic, coveringsetc, ecoterr, sustainablematerials, sustainableterrazzo, terrazzo, thinterrazzo, venetianterrazzo
---