Creative Holiday Fun With the Founder of 'What's on Parker's Plate?' Parker Wallace
Press Release
•
updated: Nov 21, 2018
Parker Wallace Stops by Tips On TV to Share Her Recipe for Throwing a Great Holiday Party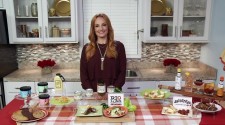 ATLANTA, November 21, 2018 (Newswire.com) - For those looking for the ingredients to a fantastic holiday party, Parker Wallace, founder of "What's on Parker's Plate?" and author of a best-selling cookbook, 'Eat Rich, Stay Skinny: A Girls' Guide to Holiday Feasting,' shares her guide for throwing great holiday celebrations. As she inspires people to try some new and innovative recipes, Parker shared with Tips on TV Blog ways to turn a regular holiday celebration into a great party that all their neighbors, friends and relatives will remember for years. Her recipes allow holiday eaters the freedom to still fit into those skinny jeans, even after the holidays.
SUGGESTIONS FOR GREAT HOLIDAY MEALS
JUST creates delicious, sustainable products that make it easier to eat well, while helping to create a better food system that is Just For All. JUST Egg is perfect for scrambling, omelets and creating delicious holiday recipes that everyone can enjoy, like Holiday Mini Quiches. For a holiday treat, JUST Cookie Dough can be eaten raw or baked up! Plant-based and Protein-packed, JUST Egg tastes and cooks just like a chicken egg. Made from mung beans, JUST Egg is free of cholesterol, dairy, gluten and artificial flavoring. Use it in place of conventional eggs for guest-friendly holiday cooking. For recipes or store locator head to Justforall.com.
A TASTY FOOD TO FIX FOR HOLIDAY GUESTS
When people want to add a pop of flavor to their favorite holiday foods without fat or a lot of calories, one suggestion is to use Rio Luna Organic Peppers. They are available in local grocery stores and they come in four spicy and easy-to-use varieties: Diced Jalapenos, Nacho Sliced Jalapenos, Diced Green Chiles and Large Chopped Green Chiles. Try making some delicious Crab Cakes with Green Chile Mayo that are just right for the holiday entertainment season. While these peppers are great for Crab Cakes, they work deliciously well with any other recipe like Jalapeno Brownies. Find these recipes and more at www.riolunapeppers.com/our-meals. Because Rio Luna Peppers are organic certified, non-GMO, fat-free, cholesterol free, low calorie and kosher, one can add a pop of peppers without serving up unnecessary ingredients in all their favorite foods. Rio Luna Organic Peppers are the world's largest producer of green chilies and the U.S.'s largest producer of jalapeños with three decades of pepper experience. People really cannot go wrong with this secret ingredient.
TIPS ON HOW TO ELEVATE ANY HOLIDAY TABLE
The holidays are a great time to add some flair to food and beverage creations. For those who want to enhance the flavor of their cocktails, use ANGOSTURA® aromatic bitters. They have been using the same secret recipe for nearly 200 years because it is perfect. Try their Old Fashioned with whiskey, simple syrup, ice, and an orange peel and cherry garnish, and the essential ingredient marrying all of these flavors are two dashes of ANGOSTURA aromatic bitters. These bitters are so good for either a cocktail or a mocktail. There is also a refreshing Lemon, Lime and Bitters drink recipe that is completely Non-Alcoholic and sure to please. ANGOSTURA bitters are not just for drinks though, they are also great in food recipes too, like Crostinis with Cheese and Orange Bitters Honey or Fiesta Meatballs with Ancho Dipping Sauce. ANGOSTURA bitters come in aromatic and orange varieties. For more information, visit angosturabitters.com
contact: tipsontv@gmail.com
Source: Tips on TV
Related Media