Creative Holiday Entertaining With Chef Parker Wallace on Tips on TV Blog
Press Release
•
updated: Nov 21, 2017
The Founder of 'What's on Parker's Plate' Reveals the Recipe for Throwing a Great Holiday Party!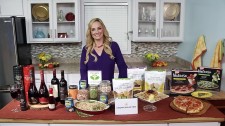 ATLANTA, November 21, 2017 (Newswire.com) - Looking for the ingredients for a fantastic holiday party? Then look no further than this interview with Parker Wallace, founder of "What's on Parker's Plate." Parker is also the author of a best-selling cookbook, called Eat Rich, Stay Skinny: A Girls' Guide to Holiday Feasting. The super chef will provide a guide for throwing great holiday celebrations that will inspire!
SUGGESTIONS FOR HOLIDAY HORS D'OEUVRES
A festive recommendation is Crunchmaster crackers with Cranberry Baked Brie - the perfect choice for a simple and delicious appetizer. This tasty baked brie recipe only takes a few minutes to prepare, leaving more time with friends and family and not stuck in the kitchen. The best part is that Crunchmaster crackers are made with wholesome ingredients like brown rice, quinoa and flax, and they are naturally gluten-free to fit any guest's dietary needs. For more information and recipes, visit www.crunchmaster.com.
TIPS ON HOW TO STAY SKINNY DURING THE HOLIDAYS
It is easy to improve the health of holiday meals without sacrificing flavor by just adding pulses to recipes. Pulses are the versatile group of superfoods most people know as chickpeas, lentils, dry peas and beans. Just adding one half-cup serving of pulses to a diet three times per week helps maintain a healthy balance during the holidays and reach the recommended dietary fiber intake. They are hearty and delicious, and high in plant-based protein, making them perfect for adding to holiday sides, stuffing, salads, and more. Plus, they are gluten-free, vegetarian and vegan, making them a great meal option for guests with dietary restrictions. Check out delicious recipes like the Vegan Green Bean Casserole with Creamy Chickpea Sauce at Pulses.org.
PARKER'S PLATE THIS HOLIDAY SEASON
Sometimes the parties go late, or people stay up talking to family and friends, or a quick and easy meal is necessary after a day of shopping. A holiday favorite is Virtuoso Pizza, which adds a fresh perspective to routine dinners with all their recipes combining wholesome ingredients and flavors. They are so fresh, it is impossible to tell they were ever frozen. Virtuoso Pizza provides guests with the break they need with quality ingredients in both thin and crispy crusts and 14 varieties. Among some of the favorites are Mediterranean Style Chicken and Margherita. Check the store locator at Oetker.us to find Virtuoso Pizza in a nearby store. For the latest updates, follow Virtuoso on Facebook or Instagram.
BEVERAGE SUGGESTIONS TO PROMOTE THE SPIRIT OF THE HOLIDAYS
This year, "Stellabrate" the holidays with wines from Stella Rosa! It is America's No. 1 imported Italian wine, and it is found it in a variety of flavors. There is the original semi-sweet, semi-sparkling Rosso with notes of strawberry, as well as the Black with more blackberry and blueberry notes. They are also available in the fully sparkling versions, Stella Black Lux and Stella Rosso Lux, which are ideal for holiday celebrations. They also come with special tins perfect for gifting, as well as in mini sizes, great as stocking stuffers! For more cocktail recipes visit www.stellarosa.com.
Video: https://www.youtube.com/watch?v=-vtlY9ObvJo&t=3s
Contact: tipsontv@gmail.com
Source: Tips on TV
Related Media