Craft Holsters Adds Over 100 New Gun Models to the List of Firearms They Make Holsters For
Press Release
•
Oct 21, 2022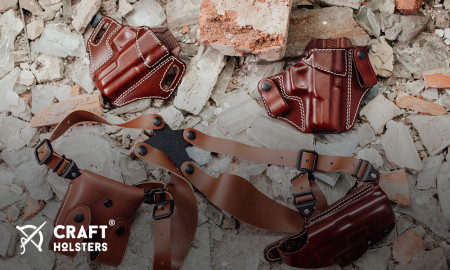 TUALATIN, Ore., October 21, 2022 (Newswire.com) - Craft Holsters, a custom leather holster maker, now makes custom leather holsters for over 1,600 different gun models.
Craft Holsters, a company known for offering custom gun holsters made of premium leather, has just expanded the pool of handguns they can craft holsters for with over 100 new and highly sought-after semi-auto pistols and revolvers. The expansion of their "gun list" means everyone stopping by their store can now select from over 100 holster models for more than 1,600 different firearms.
When asked if the company hadn't already offered custom holsters for a sufficient number of handguns, Viktor Kovac, the founder and current CEO at Craft Holsters, said that the company's "main mission is to bring custom leather holsters to virtually everyone, whether the gun they carry dates a hundred years back or has just entered the market". This shows that the company cares about everyone who decides to stop by their online store, no matter their carry preference.
According to the company's CEO, another reason for the expansion was that over the last couple of months, they "have had a lot of demand for holsters for many new pistols introduced only very recently, but as we were not making holsters for those models yet, we felt like we were letting our loyal customers down. And that's something we simply couldn't live with. So we decided to invest in over 100 new mold guns and research, in hope that we could satisfy as many gun and holster enthusiasts as we can."
Among the handguns the company now proudly offers holsters for are some of the latest and hottest handguns, such as the Ruger Max-9, SIG Sauer P365-XMacro, Springfield 1911 DS Prodigy, and Kimber R7 Mako. Just like in the gun models that have been on the company's holster offer for years, all of the leather holsters for each of the newly added handguns live up to Craft Holsters standards. "The materials our leather holsters are made of, no matter which gun they are made for, not only secure high carry comfort, they also give our customers a chance to enjoy premium craftsmanship at a reasonable price" - said Luke Laco, the head of the company's marketing department.
Anyone new to Craft Holsters should also know that any of their products (including holsters for the recently introduced handguns) is backed up by a 30-day trial period and now even Premium Lifetime Warranty.
Source: Craft Holsters