CoWatch to Be Continued by iMCO Technology
iMCO Technology will continue developing CoWatch, the world's first smartwatch with Amazon Alexa
Press Release
-
updated: Dec 21, 2016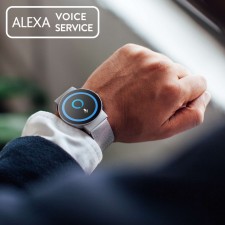 San Jose, California, December 21, 2016 (Newswire.com) - CoWatch, world's first Amazon Alexa-enabled smartwatch, will continue to be available after the Cronologics team, the software partner behind CoWatch, joins Google​.
iMCO Technology, creator of CoWatch, says in a statement that the iMCO internal software team will continue developing CoWatch with the Cronologics OS, and iMCO is "fully committed to continue the support and further development of this software platform, and will also be developing future generations of CoWatch based on this platform."
CoWatch is the first smartwatch that is integrated with Alexa, which is the voice control system that powers Amazon Echo and Echo Dot speakers. With the watch's built-in mic and speaker, users can ask CoWatch to hear the news, get the weather, check the traffic, order a pizza, control smart home, check calendar, track Amazon orders, make a phone call, and more using voice commands.  
CoWatch also offers typical wearable features such as step counter, heart rate monitor, stopwatch, timer, weather, speed dial, and If-This-Then-That (IFTTT) integration.
CoWatch is created and manufactured by iMCO Technology, a tech company based in San Jose, California. CoWatch finished an Indiegogo crowdfunding campaign in 2016, raising nearly $300,000 USD with a 281% funded campaign.
Cronologics is a startup company formed in 2014 by former Google veterans. The smartwatch OS that Cronologics developed and licensed to CoWatch is named as Cronologics OS which is fully compatible with iOS and Android devices. The Cronologics team is joining Google to push "the frontier of wearable technology and smartwatches with Android Wear 2.0 and beyond," Cronologics said in an announcement on its website.
CoWatch is available in two colors, silver and black, and for sale at iMCO website (www.imcotechnology.com) for $279 and $299, respectively.
About iMCO Technology:
iMCO focuses on innovative, fashionable products designed and developed in an effort to perfect the everyday mobile life. iMCO entered into the smart wearable market with its 1st generation smart bracelet, the NB, in 2014. Released in 2015, the 2nd generation smart bracelet, DBL, was capable of heart-rate monitoring, along with many other features. CoWatch smart watch was successfully launched through an Indiegogo crowd-funding campaign in April 2016. By offering smart wearables, including fitness bands and smart watches, as well as mobile accessories such as power bank, car charger, and Bluetooth wireless speakers, iMCO is fully committed and well positioned to "perfect your mobile life".
Media Contact:
Eric Jin
Phone: 669-213-7089
​Email: support@imcotech.co
Source: iMCO Technology Inc.
Share:
---
Categories: Consumer Electronics
Tags: alexa, amazon echo, cowatch, cronologics, echo dot, google wear, smartwatch
---