Counterpoint Launches New E-Book: A Parent's Guide to the ACT
Press Release
-
updated: Dec 13, 2018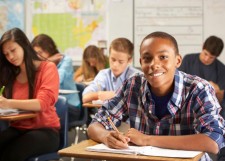 San Marcos, California, December 13, 2018 (Newswire.com) - ​​​Counterpoint is proud to announce the release of its new e-book, A Parent's Guide to the ACT. With this download, parents will have everything they need to know about the ACT at their fingertips, ensuring they're properly equipped to lead their student toward success.
This e-book provides a comprehensive overview of the most important aspects of the ACT exam, from its origins in 1959 to its present day iteration that students will take before college. Parents can even learn how the ACT differentiates itself from the SAT by being specifically designed to measure career readiness and applicable skills that are used in college and beyond.
The ACT exam is divided into four distinct sections: English, math, reading and science. Each section is scored individually, and the student's total score consists of the scores of all sections averaged together. Parents can learn more about the scoring system and discover why it's always better for a student to guess rather than leave an answer blank in Counterpoint Test Prep's e-book.
Counterpoint's e-book also covers the optional fifth section of the ACT, writing. In this section, a student will have 40 minutes to write a complete essay on a preset topic. While the test itself will give a student an option to take the writing section, many universities require it to be considered for admission. A student should know the requirements of his or her preferred college in advance. The scoring system for the writing portion is unique as well, and this e-book will provide all the necessary details.
Counterpoint Test Prep prides itself on its comprehensive courses and effective teaching style, and that's the same methodology poured into this e-book. Like its courses, this book was written by teaching professionals with genuine, extensive experience teaching test-taking strategies and essential material.
As the premier choice for ACT test prep, Counterpoint sets itself apart by the quality of its courses. The courses aren't mere online quizzes that students can cram in at the last minute. Instead, the courses are designed to be digested over time, allowing a student to develop keen test-taking skills and an unrelenting grasp of the necessary material. Parents can view the entire catalog of available courses here.
Even after a student has conquered the ACT, Counterpoint Test Prep offers additional courses to help a student get into the ideal college. Counterpoint offers modules covering how to apply to college and how to write the perfect college essay. Recently, the company launched a service in which a student can send in his or her college essay. Dr. Kay will read through it, offer suggestions and deliver it back in just three working days.
With its unique and effective advantage point strategy, students will be able to enjoy ACT test prep like no other course. Counterpoint courses teach valuable skills, allowing students to focus on only the most vital information, while filtering out irrelevant details. As the e-book describes, the ACT can be quite a challenge, but Counterpoint Test Prep's courses are designed to prepare all kinds of learners.
Parents play an active role in a student's educational career. With this e-book, parents will be better equipped to prepare students for one of the most important exams of their academic careers. Download the Parent's Guide to the ACT e-book today and don't forget to browse Counterpoint's multitude of test prep courses that will help students be in a better position to attend the school of their dreams.
Source: Counterpoint Test Prep
---
Categories: Education
Tags: ACT Test, ACT Test Prep, Online ACT Test Prep
---