Cotton Shower Pillow Makes a Grand Entrance on Kickstarter
Comfort company, Cotton Shower Pillow Inc. obtained 200% funding in just four hours for its Kickstarter project, Cotton Shower Pillow. The campaign is aiming to revolutionize the pillow industry with Cotton Shower Pillow which contains a unique four-in-one structure, microfiber filling, white clay processing, and completely machine washable feature.
Press Release
-
updated: Nov 14, 2018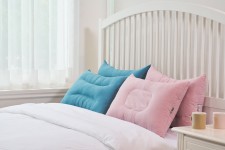 NEWPORT BEACH, Calif., November 14, 2018 (Newswire.com) - Cotton Shower Pillow, the latest product from comfort company Cotton Shower Pillow Inc., is now available on Kickstarter.
Although the Kickstart launch was highly successful, Cotton Shower Pillow Inc. CEO, Daniel Lee finds something else about the launch more important.
"There are probably hundreds of thousands of people in the world who are sleep deprived as a result of poorly designed pillows. I'm hoping that our Cotton Shower Pillow will improve the lives of our backers who have showered us with their love and support. That is our goal. Each pillow that is shipped will help relieve pain and provide comfort."
The Cotton Shower Pillow features a four-in-one structure and separate designs for the front and back sides of the pillow. Furthermore, an opening within the pillow allows users to add or remove the microfiber filling to adjust the pillow's height. This ergonomic design is great at relieving pressure around the head, neck, and shoulders, which makes it ideal for both front and back sleepers.
This pillow also contains organic properties. The phytoncide oil coating emanates a fresh, natural scent and the fabric has been processed with cosmetic-grade white clay to remove any impurities. What remains is an antibacterial quality that can help relieve symptoms of skin rashes and allergies.
While most pillows are only cover-washable, Cotton Shower Pillow is washable in its entirety. Place the pillow into a laundry bag and machine wash on a gentle cycle. Due to its four-in-one structure, the microfiber filling will not clump up, allowing you to use the pillow right away.
Cotton Shower Pillow is available on Kickstarter with early bird prices starting at $69. After the campaign, the company anticipates manufacturing and delivery to be fulfilled by the end of March 2019. Any influencers or journalists interested in receiving a sample and reviewing Cotton Shower Pillow are encouraged to submit an inquiry through its Kickstarter page.
Source: Cotton Shower Pillow Inc.
Share:
---
Categories: Bed and Bath
Tags: bed, bed accessories, cotton shower pillow, crowdfunding, kickstarter, pillow
---