Costway Expands Its Footprint in Walmart Mexico and Canada Markets After Successful Walmart Seller Summit Participation
Press Release
•
Sep 5, 2023
Costway Strengthens Its Partnership With Walmart by Expanding Into New Markets and Reinventing Its Sales Strategy to Achieve Mutual Benefits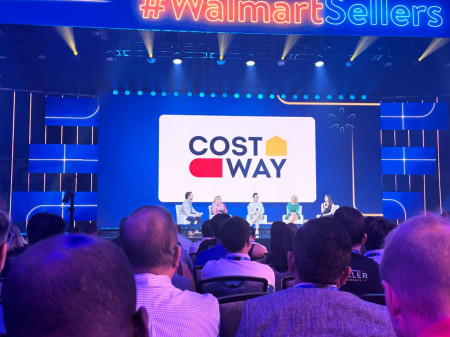 LAS VEGAS, September 5, 2023 (Newswire.com) - ⁠⁠⁠⁠⁠⁠Costway, the leading online household supplier brand has recently announced its expansion into the Walmart Mexico and Canada markets. This exciting development comes after the participation of Costway's Vice President Sabine Sun in Walmart's first-ever seller summit, where she represented Costway as a top-level seller of household products at Walmart.
Established in 2011, Costway made its debut in Walmart stores in 2016 and has since enjoyed a productive and mutually beneficial partnership with the retail giant. Over the past eight years, Costway has evolved into a full-category store on Walmart, achieving remarkable results through collaborations with various Walmart teams, including the WMC, WFS, and KA teams.
Costway's commitment to quality and excellence aligns seamlessly with Walmart's vision, leading to this latest expansion into the Mexican and Canadian markets. Costway has been deeply rooted in Canada for several years, boasting its own Canadian warehouse and a profound understanding of Canadian logistics and market dynamics.
"With a strong commitment to providing high-quality products and exceptional customer service, Costway has become a trusted name in the industry in North America. Therefore, when Walmart presented the opportunity to venture into the Canadian and Mexican markets, we enthusiastically embraced it," said Sabine Sun, Vice President at Costway. "The company's partnership with Walmart has paved the way for a seamless expansion strategy that we believe will replicate the resounding success we've achieved in the United States," she added.
Participation in the Seller Summit also provided an opportunity for Costway and Walmart to exchange invaluable feedback on a range of topics, including Walmart's return mechanism, customer service team, and strategies to enhance sales during the upcoming shopping season. Walmart's steadfast support has strengthened the partnership, yielding impressive results this year, with a 20% increase in the total number of Christmas trees stocked for Walmart Fulfillment Services (WFS) during the Christmas season (compared to the previous year).
As Costway continues to expand its global presence, the company remains committed to delivering exceptional household products to customers while fostering strong relationships with partners like Walmart.
About Costway
The story of Costway began in 2011 when the brand started as a household supplier retailer on Amazon and eBay. By providing high-quality products and thoughtful services, Costway became one of the most well-known online shopping websites for household supplies in 2016. Costway aims to inspire people to build their best homes irrespective of their budget, taste or requirements. The brand offers a wide range of high-quality and stylish home products at affordable rates and a promise of exceptional after-sales services.
For more information, visit www.costway.com.
Source: Costway
Tags