Costway Announces Exciting Service Upgrade: Introducing the Costway Trade-in Program for Outdoor Rattan Furniture
Press Release
•
May 19, 2023
Costway Trade-In Program: Enhancing Your Outdoor Experience with Easy Rattan Furniture Upgrades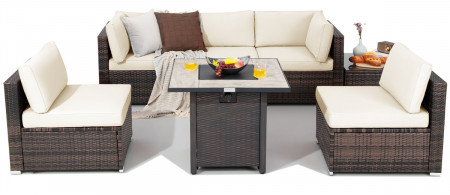 MARYLAND CITY, Md., May 19, 2023 (Newswire.com) - Costway, a leading online retailer of high-quality furniture, is excited to announce a significant service upgrade for our customers: the Costway Trade-In Program. This program allows Costway rattan furniture owners to trade in their eligible rattan furniture and guarantees them a 100% chance to receive a 30% off instant trade-in discount toward the purchase of new rattan furniture.
How does the Costway Trade-In Program work?
To participate in the Costway Trade-In Program, customers must meet the following criteria:
1. Your rattan furniture must be purchased from Costway.com.
2. The actual amount paid for your rattan furniture purchased from Costway must exceed $400.00.
3. Counting from the date when your Costway rattan furniture order is generated, the rattan furniture must be used for more than 1 year but less than 3 years.
Customers only need to pay the shipping fee from their home to the Costway warehouse. We accept U.S. Postal Service, UPS, or another shipping method.
Commitment to Renewable Energy, Responsible Recycling, and Energy Efficiency
The Costway Trade-In Program is part of our ongoing commitment to renewable energy, responsible recycling, and energy efficiency. By offering this unique service, we aim to provide our customers with an eco-friendly way to upgrade their outdoor rattan furniture while also ensuring that their old furniture is responsibly recycled.
For more information about the Costway Trade-In Program, please visit our website at www.costway.com/tradein_program.
About Costway:
Costway is a leading online retailer, offering a wide range of high-quality home and garden products at competitive prices. Our mission is to provide our customers with exceptional value and an unparalleled shopping experience. Costway is dedicated to sustainable business practices and is constantly seeking new ways to reduce our environmental impact.
Source: COSTWAY