Corvee's Simplicity and Options Propel It to Significant Growth in Past Year, Attracting Over 50,000 Users
Press Release
•
Apr 15, 2023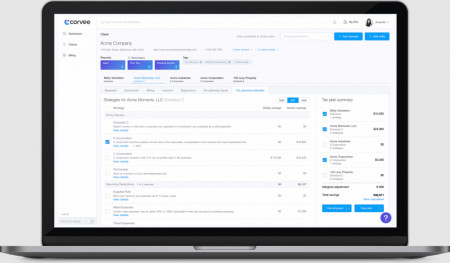 MIAMI, April 15, 2023 (Newswire.com) - Corvee has grown significantly in 2023, surpassing over 50,000 users. The use of Corvee has accelerated the tax planning process for firms by automating several steps, such as calculations and creating finalized deliverables. Because of the software's simplicity and the wide variety of tax strategies provided, firms are discovering more ways to save clients money on taxes easier than they ever have before.
Using tax planning software such as Corvee has enabled accounting firms to quickly analyze tax scenarios and serve more customers, resulting in business growth for their firms. Its state-specific strategies and ability to analyze federal and state taxes make it a versatile tool that can be used nationwide without the need for working through complicated spreadsheets. With over 1,500 strategies available, firms can use client data to create customized, detailed reports and provide the best tax-saving options. As a result, Corvee helps companies effectively manage their clients' tax planning needs.
One firm owner, for example, has recently started using Corvee to streamline their tax planning process. Previously, this accountant had relied on manual methods, which made it difficult to serve a larger client base. However, the adoption of Corvee has simplified her work and helped her save her clients even more money. The software has also enabled her to send tax planning proposals to potential clients, a long-standing business goal, and also makes her business appear much more professional to her clients.
Another firm owner, who specializes more in bookkeeping, has expanded her service options to include tax strategies with the help of Corvee. The software introduced her to new strategies that she was unfamiliar with. Her process now is to simply get the information from the client and enter it into the software. Then, after she estimates the client's potential savings, she can formulate a proposal and sell the tax plan.
Another firm owner has been able to increase his output substantially since a tax plan doesn't take him several days to produce anymore. He creates multiple tax plans in a week, and as a result, has more time to generate sales and expand his firm. He mainly uses Corvee for his existing clients and offers them upsells such as quarterly or monthly account planning.
These examples highlight several ways firm owners can benefit from using tax planning software. These value propositions are the main driver behind Corvee's growth to over 45,000 users, and it's clear that Corvee is now a go-to software for firms in the tax planning space. Its team of tax experts has designed a tool that greatly simplifies the tax planning process and helps users achieve their financial goals by saving money on taxes.
About Corvee
Corvee provides tax, accounting, and financial advising firms with the ability to make smarter tax decisions for their clients while growing and optimizing their firm. The company's flagship product, Corvee Tax Planning software, quickly and efficiently provides firms with a sophisticated but simple tool to formulate a tax savings calculation, develop a proactive and strategic tax plan and streamline client collaboration. Connect with Corvee via its blog, Facebook, LinkedIn, Instagram, and Twitter.
Source: Corvee LLC