Coredna® Takes Tivoli Audio® to New Heights With Launch of a Global E-Commerce Platform
Press Release
-
updated: Mar 20, 2017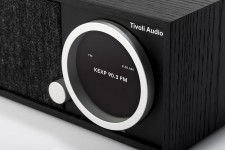 Shoptalk, Las Vegas, March 20, 2017 (Newswire.com) - Coredna a leading cloud e-Commerce company serving brands with omni-channel shopping along with marketing website technologies has today announced a global partnership for the roll out of 30 e-Commerce stores for Tivoli Audio.
Coredna is experiencing rapid growth in the US market since launching just under 12 months ago. This partnership with Tivoli Audio highlights the value proposition that multi-brand, multi-market companies are seeing in the technology when looking to capitalize on the growth of online commerce.
Since 2000 Tivoli Audio has been an innovator in the audio space, with iconic products such as the Model One. Recently Tivoli Audio launched the Model One Digital the successor to the Model One.
Paul DePasquale, Chief of Product Design & Innovation, Tivoli Audio said, "Our partnership with Coredna is the first step in transforming Tivoli Audio into a digital first company. Customers today expect to engage with us across multiple channels. The products we build have to integrate seamlessly with way our customers' lifestyle. Coredna offers Tivoli Audio a simplified approach to deploying complex technology, giving us the flexibility to evolve as our company grows."
Dan Atanasov, CFO of Tivoli Audio added, "With our previous Magento platform the true cost of ownership was higher than expected. In addition the overhead in maintenance limited our ability to drive ROI. Coredna offers us a consumption based platform that will grow as our needs and markets develop. It's a one-stop-shop for all our digital needs. We are very excited about this partnership."
Sam Saltis, CEO & Founder of Coredna, said,  "We are proud to be working with an innovative manufacturer like Tivoli Audio. Our goal is to remove the friction involved with the building and management, of website technology. This involves streamlining their supply chain while making it easier for retailers and customers to engage with the brand."
About Coredna
Coredna's software is an all-in-one digital experience platform that enables enterprises to better manage web content, as well as their overall e-commerce presence with unprecedented ease of use at a set monthly price. A full description of its features and capabilities is listed here. Coredna has been operating in Australia for over 15 years providing global support to clients that include Nintendo, Staples, Louis Vuitton and Langham Hotels. Today, more than 500 companies rely on Coredna to manage their online business.
More about coredna at www.coredna.com.
About Tivoli Audio ​
Tivoli Audio was founded in 2000 with the goal of bringing beautifully designed, simple-to-use, high-quality audio products to market. Started by Tom DeVesto, a highly respected and long-established designer and industry leader, Tivoli Audio has brought some of the most innovative, highly-acclaimed audio products to market including Model One, Portable Audio Laboratory (PAL), Music System all-in-one stereo system, and Albergo clock radio – all with Bluetooth enabled technology. Tivoli Audio manufactures and markets award-winning signature audio products that have not only broken the sound barrier in terms of high fidelity performance, but are produced in a unique range of colors and furniture grade woods to look as good as they sound. Today, Tivoli Audio products are sold in over 50 countries worldwide.
More about Tivoli Audio at www.tivoliaudio.com.
Media Contact: 
Paul Savage
Phone: +1 (781) 366-8250
email: paul.savage@coredna.com
Source: Coredna Services inc.
Share:
---
Categories: Business Technology, Internet and e-Commerce, Web Services
Tags: Boston, commerce, Development, e-Commerce, Internet, IT
---