Coolsiga Redefines 3D Printing with the FinderOne136 - 7K Mono-Screen High-Speed LCD 3D Printer
Press Release
•
Aug 29, 2023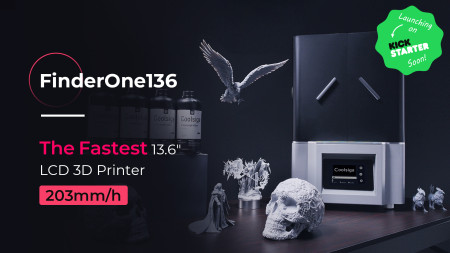 SHANGHAI, China, August 29, 2023 (Newswire.com) - Coolsiga, an industry leader in 3D printing technology, is proud to announce the launch of the FinderOne136, a groundbreaking high-speed LCD 3D printer that revolutionizes the world of additive manufacturing. Known for pushing the boundaries of innovation, Coolsiga has once again exceeded expectations with a printer that combines unprecedented speed, unmatched precision, and unrivaled convenience.
With its state-of-the-art technology, the FinderOne136 offers a supercharged performance that leaves competitors behind. Equipped with a cutting-edge 15000uw/cm2 COB light source and a powerful 57 closed-loop motor, this printer achieves mind-blowing speeds of up to 120mm/h, more than four times faster than traditional consumer-level LCD printers. Now, creators can bring their ideas to life at an unprecedented velocity.
The FinderOne136 sets new industry standards with its remarkable precision. Featuring a 13.6" Inch Mono LCD boasting an impressive resolution of 6480*3600, every model is printed with astonishing detail and clarity. With an XY resolution of 46um, even the most intricate designs come to life with flawless accuracy. Prepare to be amazed by the exceptional print quality achieved by FinderOne136.
Say goodbye to limitations with the FinderOne136's spacious build volume of 298*165*300mm. Whether users are working on large-scale prototypes or intricate models, this printer offers unmatched freedom to unleash users' creativity. The FinderOne136 empowers creators, designers, and innovators to bring their boldest visions to life in ways never before possible.
Designed for efficiency and ease of use, the FinderOne136 features a sleek and compact control box that houses all essential components. The motherboard, power supply, touchscreen interface, and Wi-Fi module are conveniently located in this central unit, ensuring easy access and an organized workflow. Convenience meets efficiency with the FinderOne136.
Worried about screen durability during long printing sessions? Fear not! The FinderOne136 comes with a long-lasting screen protector that boasts an impressive lifespan of 8500+ hours. With over three times the working hours of any consumer-level LCD printer on the market, uninterrupted printing sessions and peace of mind are guaranteed.
"We are excited to introduce the FinderOne136, a game-changing 3D printer that pushes the boundaries of speed, precision, and convenience," said Jacky Lin, founder of Coolsiga. "With this printer, we aim to empower creators around the world to turn their ideas into reality faster and with unparalleled quality."
The Coolsiga FinderOne136 is now available for pre-order on Kickstarter. For more information, please visit: https://www.kickstarter.com/projects/coolsiga/finderone136-7k-mono-screen-high-speed-lcd-3d-printer
About Coolsiga:
Coolsiga is a leader in providing cutting-edge 3D printing solutions, committed to delivering exceptional performance, reliability, and user-friendly experiences. With a focus on innovation, Coolsiga is shaping the future of additive manufacturing.
Source: Coolsiga
Tags