Conveying a Message in a Subtle Manner Through Your Branded Coffee Cup
Press Release
•
updated: Aug 29, 2017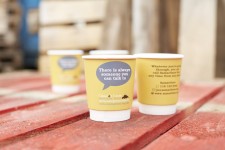 Little Houghton, UK, August 29, 2017 (Newswire.com) - Traditional advertising is dying. Research has demonstrated that millennials do not trust ads and hate the very idea of being sold to. They neither want to be targeted or broadcast at on TV, radio and social media as well, and they remain indifferent to billboards.
Millennials make up more than 40% of those who have recourse to ad blockers. Marketing to this generation is hence a dilemma.
This generation — one of the largest in history — seeks engagement and care. Placing relevant and impactful information on paper cups at an event would be a subtle manner to urge them to have a look at the brand while associating positive feelings to it.
It is a fact that most people would not put their cups down until they have swallowed their drinks.
Using this detail may render a paper cup a powerful marketing tool that is bound to stay in the hands of a coffee drinker — for instance, one who is a potential consumer or client — for an average of 37 minutes. A consumer raises and lowers the printed paper cups to eye level over 20 times while consuming the beverage.
Branded paper cups are undeniably a reliable technique to grab the attention of even the busiest person. Unlike billboards or traditional ads that are noticed for only three to six seconds by solely a few people, branded paper cups have a higher chance of impact.
Paper cups branding do not entail massive costs
Unlike traditional advertising, branding paper cups do not require a heavy budget allocation. This strategy is an attractive and affordable marketing alternative. It has been demonstrated that businesses capitalizing on this strategy have had fruitful returns beyond expectation. Branded paper cups can be used in multiple events.
The opportunities to use branded paper cups are multiple. Functions, social gatherings, parties, charity events are all platforms to sell a business.
Raising brand awareness
Whatever the event, when people present are drinking coffee or tea in a branded paper cup, at some point in time the conversation may head towards the message or the logo on the cup. It has been proven that a good logo plays a key role in a brand strategy as it provides consumers with an instant brand recognition of businesses, services or products.
An impactful message on the cup portraying the values and goals of the business would have the same effect. An attractive design on high-quality paper cups is also a sign for a serious, reliable and professional business.
Advances in mobile technology should equally be considered. Apart from logos and messages, QR Codes or other relevant codes may be printed on paper cups for coupons, discounts and other offers. This will urge the target audience to further connect and engage itself with the brand through this call-to-action technique.
Once an interest has been triggered, chances are that these drinkers may turn into potential clients. This is a perfect means to raise the chances for brand awareness. Having people to talk about a brand is a great way for a business to stand out, even if the event is a small one.
Messages on branded paper cups stay impressively memorable
Using branded coffee cups is a hit marketing strategy in Australia and the Middle East. The reason is simple. A study comprising of 900 coffee consumers showed that all participants could remember what they viewed on the printed paper cups. 98% of the participants could even remember what they read in the message printed. This is a great contrast to usual advertising methods: 97% of ads go unnoticed by the population.
Source: Scyphus, UK