Container Houses Florida Company - Looks Like a Modern House, and It's Cheaper
Container houses today look just like a normal house, but cheaper.
Press Release
-
updated: Mar 5, 2019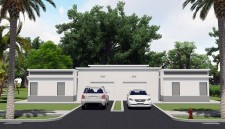 MEDLEY, Fla., March 5, 2019 (Newswire.com) - Econtainers​mod shows the benefits of choosing to invest in a shipping container home.
Shipping containers are sturdy steel boxes that range from 10 to 53 feet in length. Today it is a common fact that containers went from storage boxes to cool housing units and modern office spaces. Shipping container homes are cheaper than buying a house, they are exactly like a house, they are practical, versatile and fun and the market is booming.
So, if you considered buying a shipping container home, there are a couple of things that may be overlooked, such as:
Shipping containers are usually made from steel, which means that they can usually be recycled if you ever decide to sell it. They can also be placed basically anywhere, which means that you won't need to get rid of a bunch of trees to make room for your house.
There are many shipping containers around the globe that can also have all the same functionality as a traditional home, so you could have your dream home - and it might be cheaper than you think.
This might seem obvious, but metal is stronger. It is not unusual containers to be lifted or blown over if it is not secured to the ground in storm or hurricane conditions. This would be prevented by an adequate foundation design. As you know, when containers do blow over in container yards the resulting damage is almost always minimal, another testimonial to their strength.
The floor is designed to pass a concentrated load test of 16,000 lbs over a footprint of 44 square inches. The floor has also been designed to pass a test at twice its rated payload capacity of 47,895 for a 20-foot container and 58,823 lbs for a 40-foot container when evenly distributed.
The boxes are suitable for earthquake areas of seismic rating of up to the California standards.
Much has been made of the use of containers in architecture. The real transformation of the container houses is the design. The cozy living area can easily be expanded by adding extra parts from other shipping containers. As long as you can imagine your house, someone can design and build it.
Container homes can be built on-site or can be prefabricated – much better for the cost. On-site manufacturing and subsequent construction make costs a bit unpredictable.
Container homes will continue to be a popular prefabricated option. The time required for construction will be reduced. At ECONTAINERS we simplify the building process by managing the construction of the modules at the factory and with local companies to carry out the work on the ground.
Construction code regulations and inspections are already convenient.
Let's Go!
The shipping container industry is growing fast, and more and more investors are choosing to invest in green container living. It is considered a safe venture and relatively low-risk.
Our mission at ECONTAINERSMOD.COM is to provide excellent quality and value to our clients by combining design and construction expertise with total project accountability and to deliver a quality investment and improvement to your life.
Source: Econtainersmod
Share:
---
Categories: Construction
Tags: container homes, container house, container house company in Florida, shipping container house
---