Congressman Robert Scott Awarded Friend of CACFP Award
Press Release
-
updated: Apr 18, 2019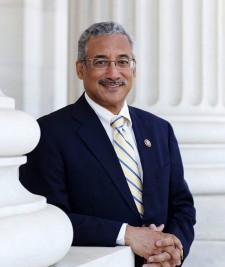 AUSTIN, Texas, April 18, 2019 (Newswire.com) - The National CACFP Sponsors Association's (NCA) Friend of CACFP Award honors and recognizes an individual who has demonstrated a commitment to supporting and improving the USDA Child and Adult Care Food Program (CACFP) through leadership and initiative. In the past, this award has been presented to Congressman James McGovern, Senator Robert Casey, Representative Marcia Fudge, Senator Debbie Stabenow and Senator Amy Klobuchar. These individuals have made significant and demonstrable contributions to the CACFP through advocacy, legislation, education or professional endeavors that exemplify a positive impact or advancement of the national child nutrition programs.
Congressman Scott has represented Virginia's third congressional district in the U.S. House of Representatives since 1993 and currently serves as the Chairman of the Committee on Education and Labor. Most recently, Congressman Scott sponsored the bill for improved quality child care access with CACFP support, known as the Comprehensive Child Care and Early Learning Bill to Ensure Child Care for All. Prior to his service in Congress, he served in the Virginia House of Delegates from 1978 to 1983 and in the Senate of Virginia from 1983 to 1993.
NCA appreciates Congressman Scott's diligent, lifetime work to expand and protect child nutrition programs in our country. We recognize the challenges he has undertaken to push for changes in hunger relief programs and food security for our nation's children and elderly. We thank Congressman Scott for his work and honor him with the 2019 Friend of CACFP Award.
Congressman Scott will be presented with the award at the National Child Nutrition Conference in Chicago, Illinois, April 23-26, 2019 where 1,700 members of the child nutrition community will gather for an incredible few days of training. Attendees will choose from over 150 workshops and training programs, network with colleagues from across the country, attend off-site excursions, participate in round table discussions with colleagues from their region and be able to visit with more than 50 exhibitors to learn about products to assist their work in CACFP. For 33 years the National CACFP Sponsors Association has offered this conference as an unparalleled training, education and networking opportunity specific to the child nutrition community.
Since 1986, the NCA is the leading national organization for sponsors who administer the USDA Child and Adult Care Food Program (CACFP). We provide education and support to thousands of members in the CACFP community and to sponsors of all sizes from across the country. We strive to improve communication between families, caregivers, sponsors and their supervising government agencies.
Source: National CACFP Sponsors Association
Share:
---
Categories: Nutrition
Tags: annual conference, CACFP, child care, eldercare, NCA, Nutrition, SFSP, USDA
---