Complete Warehouse Supply Expands Operations and Welcomes New Team Members
Press Release
•
Apr 11, 2023
With the Warehouse Racking Market trending up, Complete Warehouse Supply adds new jobs to accommodate increased customer demand for selective pallet racks, push-back racks, drive-in racks and more.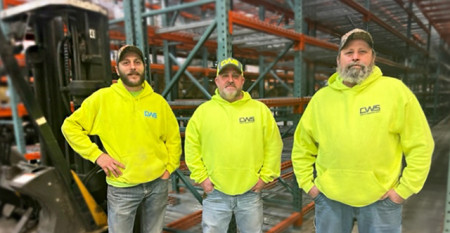 ST. LOUIS, April 11, 2023 (Newswire.com) - "At Complete Warehouse Supply, we're seeing tremendous growth in the warehouse racking industry," said Dustin McGuire, CEO, Complete Warehouse Supply. "As a premier pallet rack supplier to US warehouse systems, we're thrilled to be able to grow our Installation and Distribution Teams to meet demand."
Complete Warehouse Supply welcomes Thad Gibson, Mike Ritch and Bill Speck to their Midwest Operations.
With more than a million pounds of racking and shelving available and in stock for shipping, Complete Warehouse Supply offers cantilever racks, selective pallet racks, heavy-duty wire decking, wide span beams, pallet support, warehouse safety guardrails and more.
"From our corporate office in St. Louis, we've grown to operate a nationwide distribution network with multiple stocking facilities," said McGuire. "Major hubs include Chicago, Dallas, San Diego, Dover and Sumter, SC. These strategically placed distribution centers allow us to ship products to our customers quickly."
In addition to Complete Warehouse Supply's racking products, customers also gain access to equipment manufacturers for items like forklifts, carts, conveyors and more at discounted, factory-direct pricing.
"We aim to be a one-stop-shop for warehouse operators," said McGuire. "These are large, complex storage systems, and now with the addition of Thad, Mike and Bill, we're looking forward to providing our customers with the quality and support they've come to rely on at a greater scale."
About Complete Warehouse Supply
Headquartered in Lake Saint Louis, Missouri, Complete Warehouse Supply (CWS) is an industry-leading supplier for warehouse racking and shelving solutions. Since its inception, CWS has been the premier choice for custom and ready-made warehouse racking systems like cantilever and selective pallet racks, push-back and pallet flow racks, and drive-in racks. Their supply chains can quickly fill orders for high-demand products like safety guardrails and columns, heavy-duty beams, frames, wire decking and more. CWS offers both new and used warehouse racking systems. Products can ship in as few as 2-3 business days with installation services available.
CWS is a privately held company wholly owned by the employees. For more information about CWS, please call (800) 679-3170 or visit www.completewarehousesupply.com. Start with a free quote for your next project.
Source: Complete Warehouse Supply