PressRelease.com's Distribution Helps Public Companies Impact Global Markets
Reach global audiences, connect with international newsrooms and expand global influence with PressRelease.com's international distribution.
Press Release
-
updated: Jul 9, 2020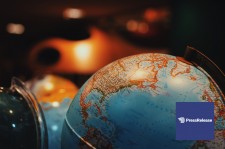 SARASOTA, Fla., July 9, 2020 (Newswire.com) - PressRelease.com's public company press release distribution is designed to help companies increase their visibility and greater market presence. In addition, Press Release.com's international distribution helps connect companies to a global audience to gain the attention of potential investors and shareholders from abroad. PressRelease.com makes it simple to distribute press releases to trusted organizations for greater visibility, reach, and coverage.
"Our international distribution is the ideal solution for businesses that have leads, clients, or the potential for investors overseas," says Erik Rohrmann, COO at PressRelease.com. "Many of our customers offer services and products that are useful to people all across the globe, and we're leveraging all our connections to get their news to the right audiences."
With PressRelease.com, businesses can get their stories and news to millions of potential readers on some of the world's most influential platforms. The PressRelease.com Global Network includes distribution to notable international outlets including Barclays International, AsiaPac Finance, and Pacific Strategies Group. 
Recent partnerships with Newswire and Accesswire have created an opportunity for PressRelease.com to offer even more value to public companies with wire distribution to networks including MarketWatch, Bloomberg, Yahoo! Finance, Morningstar, CBS, ABC, FOX and NBC. Global distribution to trusted networks helps companies build stronger connections and forge new relationships with audiences overseas.
"Connecting with international audiences has helped a number of businesses connect with communities they never would have discovered otherwise," adds Rohrmann. "You never know how significant of an impact your product or service can have on new groups of people."
PressRelease.com helps public companies supplement their advertising campaigns and content marketing efforts through smart press release distribution. To learn more about how to create newfound value through press release content, visit PressRelease.com.
About PressRelease.com
PressRelease.com provides simple, affordable press release distribution services to public and private companies through the most comprehensive networks and 1.8M media contacts.
 Contact Information:
PressRelease.com
Media Relations
Office: 800-998-292
Source: PressRelease.com
Share:
---
Categories: Business News
Tags: global, market, press release distribution, public company
---