College Scholarships: The #1 Athletic Recruiting Network
According to the College Board, the average cost of tuition and fees for the 2015-2016 school year was $32,405 at private colleges, $9,410 for state residents at public colleges, and $23,893 for out-of-state residents attending public universities.
Press Release
-
updated: Nov 25, 2016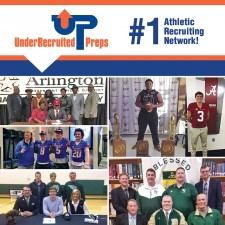 Minneapolis, MN, November 25, 2016 (Newswire.com) - The athletic recruiting process is time consuming, confusing, and very difficult if one doesn't know where to start. An online recruiting profile is very important to have college coaches view academic and athletic abilities. Under Recruited Preps connects student-athletes to college coaches and teaches them about the athletic recruiting process.
COMMON ATHLETIC RECRUITING MYTHS
Myth 1: College Coaches Will Find Me.
If you have the mindset of "If I am good enough, they'll find me", your chances of being seen decreases.
Myth 2: Recruiters Will Always Be at My Games
College coaches can't be at every game, so a highlight tape is essential.
Myth 3: I'm Not From a "Recruiting State" So Coaches Won't Look at Me
College coaches know talent. It's very important to get exposure to as many college coaches as possible.
Myth 4: Grades Don't Matter for Athletes
STUDENT before athlete.
Athletic Recruiting Sites:
1.       Under Recruited Preps
2.       BeRecruited
3.       NCSA
4.       GoBig Recruiting
5.       National Scouting Report
6.       And many more!
So, what separates Under Recruited Preps from the rest?
As of November 25th 2016, 99% of Under Recruited Preps annual members have reported interest from college coaches. There are millions of athletes in high school that would like exposure, but the only problem is recruiting services charge you for 1 sport. Under Recruited Preps charges you for 1 account and you could use that account as either a single sport athlete or multi-sport athlete.
The website gives the student-athletes easy to use tools that help them research and connect with college coaches all over the country. Under Recruited Preps partners with (colleges.niche.com)- Niche allows students to explore college reviews, rankings, and statistics.
ARE YOU BEING RECRUITED?
TAKE THE QUIZ TO FIND OUT!
Quiz: Specify Grade Level
·         9th
·         10th
·         11th
·         12th
If any of the following describes you then it is time to take control of your recruiting!
9th-
1.       No athletic recruiting activity
2.       A letter and/or questionnaire
3.       Camp invite
4.       Small amount of letters/ questionnaires
5.       No scholarship offer
10th-
1.       No athletic recruiting activity
2.       Small amount of camp invites
3.       Questionnaires
4.       Academic/ Admission information
5.       No scholarship offer
6.       College coaches are not evaluating you at tournaments, or games
11th-
1.       No athletic recruiting activity
2.       Small amount of camp invites
3.       Questionnaires
4.       Academic/ Admission information
5.       Hand written letters
6.       No scholarship offer
7.       No calls
8.       Small amount of calls
12th-
1.       No athletic recruiting activity
2.       Academic/Admission information
3.       Small amount of scholarship offers
4.       Camp invites
5.       No scholarship offer
For more information visit www.UnderRecruitedPrep.com
Create a FREE athletic recruiting profile at www.UnderRecruitedPrep.com
Source: Under Recruited Preps
Share:
---
Categories: School Sports, High School Sports, Colleges and Universities, High Schools, Education, Sports
Tags: BeRecruited, College Scholarships, High School Baseball, High School Basketball, High School Football, High School Ice Hockey, High School Lacrosse, High School Soccer, High School Softball, High School Track and Field, High School Volleyball, Under Recruited Preps
---