Coldplay's Concert Tour Movie Shows 'A Head Full of Dreams' Lighting Up Fans
Press Release
•
updated: Nov 14, 2018
Coldplay lights up every person with brilliant light-up wristbands called Xylobands. In a concert tour featuring every possible effect, the LED wristbands are the popular 'wearable media' invention that directly connects fans to the music and to the band. Xylobands USA is also providing the light-up wristbands to events of all kinds.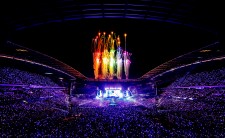 LOS ANGELES, November 14, 2018 (Newswire.com) - "A HEAD FULL OF DREAMS" is the new documentary film release detailing Coldplay's colorful 20-year history. The film will be available to stream exclusively on Amazon Prime Video from Friday, Nov. 16, in the U.K., U.S., Australia and New Zealand, with local language versions available globally soon after. The documentary release will be preceded by a special one-night showing of the film in collaboration with Trafalgar Releasing in more than 2,000 cinemas globally on Wednesday, Nov. 14.
The new "A HEAD FULL OF DREAMS" movie shows Coldplay's state-of-the-art concerts, including Xylobands lighting up everyone at the concerts. Using technology to connect every person, Xylobands have transformed the live-event experience by making each person a part of the show itself.
COLDPLAY 'A HEAD FULL OF DREAMS' >
Immersive light show experiences became a highlight of the "A Head Full of Dreams" tour, creating large-scale LED light shows. As created by Coldplay's lighting designers, every person becomes part of the design and color of the music.
INTELLIGENT LED WRISTBANDS
Xylobands, the fully recyclable wristbands that Coldplay requires, are the "intelligent LED wristbands" with microcomputer receivers that use RF control to light up the entire audience. A single, ground-based transmitter lights up everyone, creating a brilliant LED light show unlike anything before.
Coldplay fans experienced the new technology at the band's live concerts. Not just blinky lights, Xylobands are used to heighten the emotional feelings at moments, embellishing quiet or reflective moments with soft violets or blue colors, dark colors slowly fading in and out, and then high-energy moments light up with bright, colorful flashing rainbows of colors.
XYLOBANDS AT EVENTS
Xylobands are lighting up at all kinds of live events, from small to large, for corporate meetings, conferences and public and private events. Xylobands USA is the North American team creating events with Xylobands LED wristbands and with intelligent LED lanyards and balls.
Xylobands USA brings to events the programming expertise that has energized events with Bruno Mars, Shakira, Adam Levine, Tiesto, Linkin Park, "The Voice," "Dancing with the Stars" and more.
To get the most from Xylobands technology, producers design patterns and combinations of colors and groups of colors to immerse an audience in a unique experience. The RGB LEDs create thousands of colors and Xyloband shows create colors and patterns blinking to the beat of the music, as well as live cues. The walk-away mode keeps the Xylobands glowing long after the event.
Coldplay has previously worked with the special effects team behind Xylobands USA: TLC Creative. TLC Creative provided lasers for previous tours, live special effects, glowballs and aerial photography for the "A Head Full of Dreams" Rose Bowl show.
Contact TLC Creative at 310-822-6790.
Media Contact:
Jeff Ward
Phone: 310-822-6790
Email: TLC@TLCisCreative.com
Source: Xylobands USA
Related Media
Additional Links