Coldplay Tour Lights Up Everyone With New Technology LED Bracelets
Press Release
•
updated: Aug 9, 2017
Xylobands are creating exciting new experiences, and new kinds of LED light shows, at Coldplay concerts and all kinds of special events.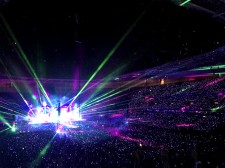 Montreal, Quebec, August 9, 2017 (Newswire.com) - Coldplay brought their 'A Head Full Of Dreams' tour to the Bell Centre for live concerts last night and tonight, filling the Bell Centre with the coolest show technology on the road.
Coldplay delivers the experience of connection using technology to light up EVERY PERSON at their concerts with live LED light shows. Everyone is synchronized together with glowing light and colors moving over the crowd. The experience is so exciting that light-up effects and wearable media will only become more popular at live events.
Laser beams and laser special effects extend the show to the entire stadium, creating a spectacle of color and light. Lasers combine with the LED bracelets to help the audience become a part of the show.
The LED bracelets are being used at corporate, public and private events of all kinds by event technical services team at Xylobands USA.
XYLOBANDS USA 360 degree LED Wristbands >
Xylobands USA provides the LED bracelets and technicians to create elaborate programming designs that sweep colors and patterns of light across a room full of Xylobands. Special events that feature Xylobands have been created for America's Mart, Microsoft, Dell, T-Mobile, Samsung, Dancing With The Stars, and The Voice.
A HEAD FULL OF DREAMS Tour Info >
The Bell Centre shows continue tonight, here in Montreal. 'A Head Full of Dreams' will be lighting up the Xylobands for U.S. and Canadian audiences as the tour covers North America, including shows at the US Bank Stadium in Minneapolis, MN on Saturday.
Xylobands USA lit up the ice hockey stadium for the Arizona Coyotes, creating incredible LED light shows with Xylobands LED bracelets. A 360 video taken during run-through's of the Coyotes season opener showcases the Xylobands bright impact, the world's brightest intelligent LED bracelets.
360 VIDEO (ON ICE): Xylobands Light-Up Hockey Stadium >
Intelligent LED bracelets are creating a new era of live entertainment with LED Light Shows. And, new technology LED lanyards and LED glowballs are also creating new energy and new ways to connect everyone at special events, something millions of Coldplay fans have experienced.
Contact Xylobands USA at 310-822-6790
310-822-6790
Source: Xylobands USA
Related Media