Coldplay Concert Technologies Create Group Bonding Experiences at Company Events
Press Release
•
updated: Mar 1, 2019
Immersive light shows create energy and focus at company meetings, bringing together teams that benefit by quickly getting the messages of the topics to be presented. Meeting kick-off opener shows often use special effects, like Xylobands and lasers, to get the energy high and to boost participants attention.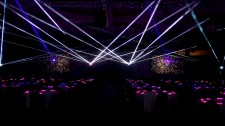 NASHVILLE, Tenn., March 1, 2019 (Newswire.com) - Lasers and light up wristbands create intense excitement at concerts and are also used to create motivational openers at events, meetings, and company conferences. Xylobands, made famous by rock band Coldplay, are bracelets of bright, colorful light controlled live, synchronizing groups into an immersive light show.
Using concert special effects for corporate and private events is what TLC Creative Special Effects does every day. The Los Angeles based technical production services company specializes in new technology LED fx, laser effects and live special effects. TLC also operates Xylobands USA, North America's top provider of the famous, intelligent LED wristbands. Xylobands are the brightest smart light-up wristbands available.
Meeting openers are often well planned motivational moments that put everyone on the same page. Making every person feel directly connected to the event is valuable for company meetings and conferences, and event planners go to terrific lengths to create that experience.
IMMERSIVE LIGHT SHOW by TLC > https://tlciscreative.com/blog/laser-show-meetings
TLC creates laser entertainment, enhanced with video and live special effects, along with the light-up Xylobands, for motivational openers that shock and awe participants into being fully awake and at their highest possible energy level.
Fog bursts, sparks, bubbles or snow, TLC fills corporate shows with atmospheric special effects of all kinds, which interact with lasers and lighting, adding to overwhelming experiences that exceed expectations.
LASER SHOWS and LASER EFFECTS by TLC > https://tlciscreative.com/services/live-special-effects/lasers-laser-shows
Multiple-fx shows with lasers and Xylobands is a TLC specialty. Shows that start with a custom TLC soundtrack for fireworks, then add laser projection and laser beams for stadiums or big outdoor events.
TLC creates both laser aerial effects shows and laser projected shows for events, and for TV's top live and filmed productions, from "America's Got Talent" to "Dancing With The Stars," and for music videos. TLC has performed live lasers with Coldplay, Miley Cyrus, Adam Lambert, Maroon 5, JayZ, Jennifer Lopez, Celine Dion, and others.
XYLOBANDS LED WRISTBANDS > http://www.xylobandsusa.com
Xylobands are lighting up every person at special events; everyone becomes a pixel of light in immersive light shows. Only Xylobands feature the brightest LED's and an extended 360 degrees of light, so the motivational power is amplified when everyone sees everyone else light up. TLC is also using new Xyloband light up lanyards at company meetings and conferences, and with dozens of LED's, this technology is so bright it can light up an entire venue.
Visible for miles, a new type of laser searchlight & event beacon with over 300 WATTS of LASER BEAM is now available from TLC for special events, resorts, and attractions. Be the first in your area to bring 300 watts of an incredible high-energy laser. TLC's laser cannon is a powerful way to grab attention anywhere.
TLC Creative brings all kinds of live special and LED effects, and new breakthrough's in event technology, to events and shows, is very active bringing Xylobands and other new LED technologies to special events.
For more information, contact TLC Creative Special Effects.
Phone: 310-822-6790
Email: TLC@TLCisCreative.com
Discover TLC on social media:
Source: TLC Creative Special Effects
Related Media
Tags
Additional Links