Coinscrum Joins Cudos as Network Validator
A new & exciting partnership unites Coinscrum and Cudos
Press Release
-
updated: Apr 1, 2021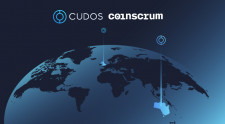 LONDON, April 1, 2021 (Newswire.com) - Major crypto news outlet and staking-as-a-service provider Coinscrum, will become the latest company to announce themselves as a Cudos validator, providing the Cudos validator network with an Australia-based validator node.
"We're excited to support the CUDOS project and build the future of decentralized cloud computing of truly democratized resources. The web has centralized itself over the last two decades with companies consolidating and controlling large parts of the internet. We think it's time to rebuild and modernize the Web in a secure and balanced way, enabling anyone to commit and monetize redundant resources and returning to the web's original ethos. We believe the CUDOS platform, team and exemplary partners, will be the driving force behind this new decentralized cloud revolution." Paul Gordon, Founder of Coinscrum_pro.
Coinscrum has been at the heart of the crypto community in London since launching the city's first Bitcoin Meetup group in 2012, championing a decentralized economy ever since. Under our C-Lab division, we've built and expanded our operations for members - running private validators and staking pools for a number of PoS networks. We're looking forward to adding the CUDOS token to our platform and have invested in both the team and infrastructure, to support the project. C-Lab runs its operations in the UK and Australia, utilizing renewable energy sources to support the crypto ecosystem in an environmentally friendly manner.
"There isn't another industry like blockchain, where community plays such an important role. The community supports new projects, helps develop the product & tools, marketing, awareness and in Cudos' case, like other proof-of-stake networks; the community also runs the nodes that operate the network. The value of decentralization goes beyond immutable records, it provides everyone and anyone with the opportunity to share the wealth that the ecosystem produces. That is why Coinscrum is such an important partner to Cudos. Their business is built around the crypto and blockchain community and they will bring an enormous amount of value to our ecosystem." Andrew Walker, CRO, Cudos.
About Coinscrum
Coinscrum began life as one of the world's first Bitcoin Meetup groups in London 2012, since then, it has grown its community to over 6,500 members, hosting over 250 free-to-attend networking events and presentations, featuring many of the leading founders and thought-leaders in the industry. More recently Coinscrum has migrated to a fully online format, publishing multiple video interviews each week with industry executives, founders and developers.
Find out more and watch at: coinscrum.com
About Cudos
Cudo is bridging the gap between Cloud and Blockchain, by using the world's available computing to power a more decentralized, sustainable and connected world.
Cudos is being designed as a cross-chain, decentralized compute network, with CUDOS as the utility & infrastructure token designed to empower Web 3.0 operations on the network. The Cudos network will enable anyone to sell or consume excess computational resources, either via blockchain/smart contract or through more traditional cloud computing APIs.
In essence, what this means is Cudos will be one of the few networks which can power other blockchains and scale to the demands of cloud computing required today. For more information, please visit: Website: www.cudos.org Twitter: https://twitter.com/CUDOS Telegram: https://t.me/cudostelegram
Source: Cudos
Share:
---
Categories: Internet Computing
Tags: blockchain, blockchain exchange, blockchain node, cloud technology, coinscrum, decentralized, smart contract, validator exchange, web3
---