James Bowater Joins Cudos as Advisor
Press Release
•
updated: May 18, 2021
Founder of Crypto AM and a widely respected advocate for the blockchain and crypto, James Bowater joins the Cudos Advisory team.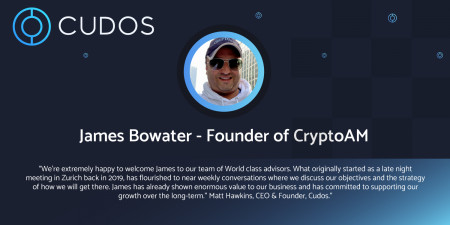 LONDON, May 18, 2021 (Newswire.com) - Cudos could not be prouder to integrate the esteemed James Bowater into the Cudos advisor team.
"We're extremely happy to welcome James to our team of world-class advisors. What originally started as a late night meeting in Zurich back in 2019, has flourished to near weekly conversations where we discuss our objectives and the strategy of how we will get there. James has already shown enormous value to our business and has committed to supporting our growth over the long-term." Matt Hawkins, CEO & Founder, Cudos.
James Bowater founded Crypto AM as a section within the respected online CityA.M. publication dedicated to crypto and blockchain industry news.
A highly active community member, James organises online and in-person networking events and industry conferences, including the DeFi & Digital Inclusion Summit and multiple industry awards events across Europe and the Middle East.
As an advisor to World Mobile, Boson Protocol, and Sheesha Finance, James brings a breadth of experience to the Cudos advisory team, as he begins to champion the Cudos brand and help the team connect with other projects and leaders within his extensive network.
"The first time I met the Cudos core team they instantly stood out from the crowd with their passion, professionalism and vision. Having already been successful in the U.K. Data Centre space, not only did they recognize that the global surplus of compute power could be harnessed to reduce the need for ever more powerful machines, but also put their own money where their mouth is by self-funding from the outset.
I'm a huge believer in empowering the general populace away from centralized mega corporations, and that's absolutely the case with Cudos's vision, which aligns gracefully with that of both Boson Protocol & WorldMobile. So it was an easy decision to say yes to becoming an advisor." James Bowater, Founder of Crypto AM.
About Cudos
The Cudos Network is a layer 1 blockchain and layer 2 computation and oracle network being designed to ensure decentralized, permissionless access to high performance computing at scale and enable scaling of computing resources to 100,000's of nodes.
Once bridged onto Ethereum Algorand, Polkadot and Cosmos, Cudos will enable scalable compute and layer 2 Oracles on all of the bridged blockchains. In essence, what this means is Cudos will be one of the few networks which can power other blockchains and scale to the demands of cloud computing required today.
For more information, please visit: Website: www.cudos.org Twitter: https://twitter.com/CUDOS_ Telegram: https://t.me/cudostelegram
Source: Cudos