Coach Sue Semrau of Florida State University Named 2018 Barefoot Coach of the Year by Samaritan's Feet
Press Release
-
updated: Jan 25, 2018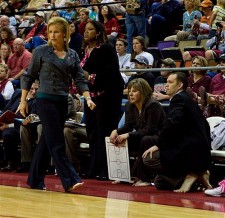 CHARLOTTE, N.C., January 25, 2018 (Newswire.com) - Samaritan's Feet International proudly announces that Sue Semrau, Head Women's Basketball Coach for Florida State University, has been selected as the 2018 "Barefoot Coach of the Year." The award will be presented to Semrau pre-game at the women's basketball game on Sunday, January 28 against Notre Dame at 4:00 p.m. at the Donald Tucker Center (505 W Pensacola St, Tallahassee, FL 32301). Semrau is the first female coach to receive this award and joins John Calipari of the University of Kentucky, Brad Stevens of the Boston Celtics (formerly of Butler University), and Ron Hunter of Georgia State University as recipients. 
Coach Semrau has coached games barefoot for Samaritan's Feet during the past eight basketball seasons. She and her team have organized, led efforts, and served at numerous shoe distributions in the United States and internationally including Jamaica, South Africa, Nigeria, Senegal, and others. Additionally, Coach Semrau has engaged the Women's Basketball Coaches Association (WBCA) to get involved with Samaritan's Feet. Overall, her involvement with Samaritan's Feet has impacted thousands of people around the globe.
"Samaritan's Feet is thrilled to honor Coach Semrau as our 2018 Barefoot Coach of the Year," said Manny Ohonme, Co-Founder, CEO, and President of Samaritan's Feet. "Her efforts to encourage servant leadership within her team and community is extraordinary as she has volunteered at events across the world and in Florida. She is an example to us all of someone who understands the importance and impact of serving others. Thank you, Coach Sue, for using your platform to help us serve those in need."
In honor of Coach Semrau and the 15th anniversary of Samaritan's Feet, Sanford Health is donating $30,000 to Samaritan's Feet which will be used to serve 1,500 kids in Florida and beyond with a new pair of shoes and message of hope. The check will be presented during the award presentation before Sunday's game.
"It has always been a privilege to represent Samaritan's Feet in the basketball community and it is my prayer that God will use this announcement and honor to further his plan for this world-changing organization," said Coach Semrau.
Semrau has demonstrated the fives pillars of being a barefoot coach: giving a voice to the voiceless, creating awareness for Samaritan's Feet, providing shoes to impoverished children, enhancing the image for coaches, schools, athletes, and the NCAA through courageous efforts, and providing multiple opportunities to engage people in a life of service.
Previous Barefoot Coaches of the Year include Joe Kittell, University of Mary (2017); Brian Jones, University of North Dakota (2016); Jeff Jones, Old Dominion University (2015); Saul Phillips, Ohio (2014); John Calipari, University of Kentucky (2013); Scott Nagy, Wright State University (2012); Brad Stevens, pervasively of Butler University (2011); William Knopf, Glenforest School (2010); and Ron Hunter, Georgia State University (2009).
About Samaritan's Feet International
Samaritan's Feet is a 501(c)(3) humanitarian aid organization that shares a message of hope and love through washing the feet of impoverished children around the world and adorning them with new shoes. There are an estimated 2.2 billion people worldwide living in poverty and more than 1.5 billion who suffer from foot-borne diseases. The goal of Samaritan's Feet is to create a world with zero shoeless children. Since its founding by Manny Ohonme in 2003, Samaritan's Feet and its team of ambassadors and partners have blessed more than 6.5 million children in more than 85 nations. For more information about Samaritan's Feet International, visit www.SamaritansFeet.org.
For More Information:
Deni Avant
davant@samaritansfeet.org
Source: Samaritan's Feet
Share:
---
Categories: Collegiate Sports, Philanthropy, Charitable Contributions
Tags: 501c3, basketball coach, coach, college women's basketball, Florida state, Florida state university, ncaa, ncaaw, non-profit, nonprofit
---