Clium, the Ultimate Oral Appliance Cleaner and Container Makes Its Way to Kickstarter
Clium is armed with UV-C LED lights and ultrasonic waves to clean and disinfect your daily oral appliances while also being super portable.
Press Release
-
updated: Oct 24, 2018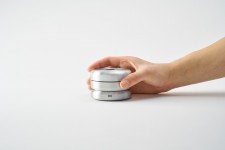 NEWPORT BEACH, Calif., October 24, 2018 (Newswire.com) - After years of research and development, Clium, the portable oral appliance cleaner has launched on Kickstarter and will soon begin mass production. Clium has two distinct functions that allow it to perform better than any other oral appliance cleaners on the market. The UV-C light inside Clium will disinfect 99.99% of bacteria, and the ultrasonic vibrations will then work to remove any particles that are latched on the oral appliance.
Clium is easy to use. Simply place an oral appliance inside, fill up the device with water, place an effervescent tablet into the Clium, close the lid, and press the button to begin the cleaning process. Both the UV-C LED light and ultrasonic vibrations will begin automatically and will stop after the process is finished.
Clium's light and portable design make it an everyday carry item which makes it is small enough to carry around in a purse or personal bag. This device is ideal for retainers, mouth guards, dentures, and even musical instrument mouthpieces.
"I was always a little embarrassed to take out my retainer case, let alone keep it on my desk at the office. People always assumed that whatever was inside was dirty. So I decided to create an oral appliance cleaner with high-performance capabilities along with a slick design so that people like me could be at ease," says Il-Do Jung, inventor of Clium.
Clium's primary features include:
UV-C Light: Disinfects 99.99% of bacteria
​Ultrasonic Vibrations: Removes built-up plaque and other particles
​Sleek Design: Seamlessly fits in with any environment
​Water Resistant: Will work in areas with heavy water usage.
Portable: Can fit into any personal bag and is super light.
Preorders for the Clium are now available for a limited time on Kickstarter with prices starting at $120. After the campaign, the company anticipates manufacturing and delivery to be fulfilled by the end of March 2019. Any influencers or journalists interested in receiving a sample and reviewing the Clium are encouraged to submit an inquiry through Clium's Kickstarter page.
Source: Altos Business Group
Share:
---
Categories: Dentistry
Tags: clium, crowdfunding, dentist, dentistry, denture, kickstarter, kickstarter product, oral appliance, oral appliance cleaner, retainers
---