Climate Storytelling in the Era of Pandemic
OCV develops a groundbreaking May Workshop Series
Press Release
-
updated: May 25, 2020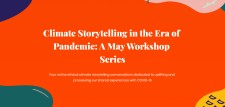 WASHINGTON, May 25, 2020 (Newswire.com) - Our Climate Voices released 4 climate storytelling workshops. These workshops were sold out within a week. The goal of the workshops was to have real conversations dedicated to uplifting and processing our shared experiences with COVID-19. The four workshops were 'Principles of Ethical Storytelling', 'Storytelling for Pandemic Processing', 'Call to Care', and 'Collective Climate Visioning'. Effective storytelling emerges from a place of trust and has the power to change hearts and minds in a way that facts and figures cannot. The workshops were groundbreaking in their approach to harness collective power of story and offers a new way for climate activists to approach the pandemic from a place of hope in the uncertainty. OCV does not believe that this is a moment where climate activists should be fighting for the mic, but we do feel that the process we use for telling our climate stories can help guide our reflections and understandings of the current situation. COVID-19 may very well impact how we think about climate justice, but it is not the path to achieving it.
"COVID-19 is capturing our attention, as it should, during this unprecedented moment in history. Climate advocacy work remains urgent and important, but we must continue to talk about climate in a way that centers and values human lives and the ways that they are being impacted by the virus," says Aletta Brady, Founder and Executive Director at Our Climate Voices.
Features and benefits of Ethical Storytelling Workshops include:
We define 7 Ethical Storytelling principles that everyone should live by when listening to a story and/or telling their own story.
In 'Call to care' we all reflected on how best to continue or pause our work at this time and ground ourselves in the idea that inclusive movements do not build momentum at the expense of the vulnerable.
In 'Collective Climate Visioning' the attendees worked together to articulate what a sustainable and just future looks like for everyone and their communities. 
The next workshops will be starting early June starting at $10. To be the first to know when ticket sales start and for more information on these virtual events visit OurClimateVoices.org.​
About Our Climate Voices: The mission of Our Climate Voices is to humanize the climate disaster through storytelling, contribute to a shift in the climate change dialogue that puts the voices of those most impacted at the forefront of the conversation, and to connect people with ways to support the community-based climate solution-making work that frontline and vulnerable communities are already doing to combat climate impacts.
Source: Our Climate Voices
Share:
---
Categories: Green Industries
Tags: activism, Climate Justice, Climate Storytelling, COVID-19, ethics, Grassroots, storytelling
---