Clay County Schools Partners With Anonymous Alerts to Bolster School Safety and Bullying Prevention
Press Release
-
updated: Apr 11, 2018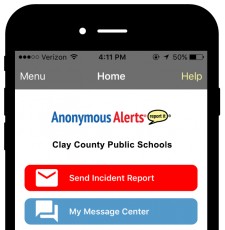 MANCHESTER, Ky., April 11, 2018 (Newswire.com) - Clay County Public Schools is excited to announce partnering with Anonymous Alerts®, the award-winning anti-bullying and safety reporting mobile app and system for students, community and staff members. The patented anonymous 2-way communications® system empowers students to anonymously report bullying, self-harm, family issues, weapons, drug/alcohol usage, potential violent acts and other safety concerns directly to school officials.
"Anonymous Alerts® will help develop our students' leadership skills to become engaged citizens by encouraging students to report any safety concerns to designated school officials," said Superintendent William Sexton. "This provides our students with a state-of-the-art outlet for speaking up about bullying, harassment and other harmful behaviors."
Clay County Public Schools is continuing to promote a safer school climate through this new robust communications tool. The new technology at the students' fingertips will help them to anonymously discuss sensitive issues, have compassion for others, and raise awareness about issues confronting today's youth.
Students, parents and staff can directly download the Anonymous Alerts® app for free and gain access with a simple activation code provided by Clay County Public Schools to send reports anonymously to school officials. Students can also access the Anonymous Alerts® web-button located directly on the Clay County Public Schools website to send a web-based report, which is available in English and a dozen other languages. Monitoring hours for the system will be during school days between the hours of 7 a.m. and 5 p.m.
"We are excited to help encourage students at Clay County Public Schools to have a voice and take a stand against bullying, safety issues or harmful behavior using our mobile anonymous 2-way communications system," said T. Gregory Bender, President & CEO of Anonymous Alerts, LLC. 
About Anonymous Alerts®
The Anonymous Alerts® award-winning and patented mobile applications platform was developed to encourage students to quickly report bullying, mental health concerns, drug use/dealing, campus safety threats, and more directly to school and college officials, who can take quick action. The mobile apps and systems are completely customizable for each client and include intuitive Incident Management® tools built for any level user. Anonymous Alerts® is Patented (U.S. Patent No. 9,071,579) with additional patents pending. Anonymous Alerts, LLC is based in White Plains, New York and is rapidly growing throughout the United States and abroad. For more information, please visit www.anonymousalerts.com or call 914-220-8326. 
Anonymous Alerts Media Contact:
Media Relations
(914) 220-8326
relations@anonymousalerts.com
Source: Anonymous Alerts
Share:
---
Categories: Education, Public Sector
Tags: Anonymous Reporting App, bullying prevention, Gun Violence, Parkland, School Safety, student mental health, Student Safety
---