Chimpion Announces Support for Bitcoin Cash (BCH)
Bitcoin Cash among first wave of cryptos supported by new e-commerce platform
Press Release
-
updated: Jan 31, 2019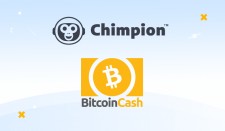 TALLINN, Estonia, January 31, 2019 (Newswire.com) - Chimpion has announced that its crypto e-commerce platform will support Bitcoin Cash (BCH). BCH is among the first four currencies to join Chimpion's own Banana Token (BNANA) as currencies supported by the Chimpion ecosystem.
"Chimpion has opened the door for merchants to transact in the blockchain economy," said Alex Arnaut, Chairman of Chimpion. "We've established this platform as a secure crypto e-commerce platform and we want to ensure a wide range of cryptocurrencies for people to use with Chimpion. BCH has proved itself as a functional and popular altcoin, which made it a natural fit for the Chimpion ecosystem."
As Bitcoin's first hard fork, Bitcoin Cash is essentially a branch off the Bitcoin family tree. As Bitcoin (BTC) gained serious traction in the 2010s, crypto enthusiasts recognized areas in which it needed to be improved. Developers began to experiment with increasing Bitcoin's block size limit, which produced a hard fork, resulting in Bitcoin Cash. At the time of the fork, anyone owning Bitcoin was given possession of an equal number of Bitcoin Cash (BCH) units. Bitcoin Cash is considered by its supporters to be the legitimate continuation of the Bitcoin project as peer-to-peer digital cash.
By enabling Chimpion merchants to accept Bitcoin Cash and other popular cryptocurrencies, Chimpion is supporting the growing global demand for crypto-enabled commerce. Shoppers around the world can now use BCH to make purchases from Chimpion merchants, who will have access to a wider customer base and more efficient transactions using Chimpion's user-friendly e-commerce platform tailored for cryptocurrency. The Chimpion ecosystem will be rolled out during early 2019.
About Bitcoin Cash
(from https://www.bitcoincash.org/faq.html)
Bitcoin Cash is a peer-to-peer electronic cash system. It's a permissionless, decentralized cryptocurrency that requires no trusted third parties and no central bank. With Bitcoin Cash, you can send money to anyone, anywhere in the world, 24 hours a day, 365 days a year. Like the Internet itself, the network is always on. No transaction is too big or too small. And you never need anyone's permission or approval.
About Chimpion
Chimpion is a cryptocurrency e-commerce platform that enables any merchant to begin accepting cryptocurrency payments online. By holding Chimpion (CHIMP), merchants can gain access to Chimpion's robust crypto e-commerce platform for free, without needing to pay a monthly subscription fee. Chimpion was developed using technology from Shopping Cart Elite, Paytomat, and Bitcoin Diamond (BCD) and combines comprehensive e-commerce features with convenient payment processing.
Chimpion's primary goal is to drive the adoption of cryptocurrency as a payment solution by operating a rich e-commerce platform centered around digital assets. New startups and established merchants alike can become part of Chimpion's vast network to take advantage of its fast and affordable transactions and user-friendly infrastructure.
Source: Chimpion
Share:
---
Categories: e-Commerce
Tags: adoption, bitcoin, bitcoin cash, bitcoin diamond, blockchain, chimpion, cryptocurrency, ecommerce, online payments
---