Children of Korean War Veterans Lead Fight for America's Homeless Veterans
Press Release
•
updated: Aug 29, 2018
Miami VA Social Workers Marsha Latham, Gina Queen Win Spirit of Community Recognition for Success Reducing Veteran Homelessness in Miami-Dade County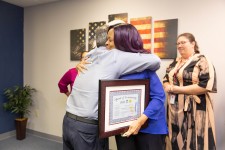 MIAMI, August 28, 2018 (Newswire.com) - The Korean War took a toll on both their fathers decades before they met on the front lines of a very different battle fought on American soil. Marsha Latham and Gina Queen each grew up to become social workers fighting for America's homeless veterans. Last week, the two Miami VA Medical Center professionals found out they had more in common than they knew while being honored with Spirit of Community awards from Purpose Built Families Foundation.
"It is only through dedicated, great team players and leadership in collaboration that a city of this magnitude could realize such achievements for the veterans we serve," said Julie Macias, Deputy Program Director of the Operation Sacred Trust Supportive Services for Veteran Families program, as the two Healthcare for Homeless Veterans professionals were recognized for their impact disrupting veteran homelessness in Miami-Dade County.
Success in Miami-Dade County does not mean a moment to pause in the fight for America's homeless and at-risk veteran families. We owe the same sacred trust to every veteran.

Seth Eisenberg, CEO, Purpose Built Families Foundation
While just 29 of thousands of homeless and at-risk Veterans assisted by Operation Sacred Trust in Miami since 2012 were Korean War Veterans, many of the children born to the 1.8 million Americans who served in Korea between 1950-1953 were inspired by their parents' sacrifices, said Purpose Built Families Foundation CEO Seth Eisenberg.
"Gina and Marsha grew up across the nation from each other in very different circumstances. The Korean War influenced both in their service to veterans," Eisenberg remarked.
With federal funding from the VA and actively supported by VA professionals in Miami, Operation Sacred Trust was established in 2011 as a collaboration of Carrfour Supportive Housing, PAIRS Foundation and University of Miami to deliver rapid rehousing and homelessness prevention services to very low-income veterans in Miami-Dade and Broward counties. In 2017, the program was nationally accredited.
Earlier this month, HUD Secretary Ben Carson visited Miami to commemorate the community's success disrupting veteran homelessness.
While there will continue to be veterans in need of assistance, "when homelessness happens ... it should be brief, rare and non-recurring," Dr. Carson said as he announced Miami-Dade County had met HUD standards for declaring an end to veteran homelessness.
Success does not mean a moment to pause in the fight for America's homeless and at-risk veterans.
Eisenberg said the agency and its partners are working "24/7 to achieve similar goals for Broward County's veterans."
Affordable, permanent supportive housing that prioritized homeless veterans was key to success in Miami, Eisenberg said, pointing to Carrfour Supportive Housing's recent completion of two new affordable housing communities in the area.
"Carrfour's ability to win competitive state tax credit funding to develop, build and open Karis and Liberty Village apartments to dozens of formerly homeless veterans made this achievement possible," he said.
"The public-private collaboration with VA enabled our community to come together to create and deliver the resources veterans have earned," Eisenberg said. "We owe the same sacred trust to every veteran," he said.
The 2018 Spirit of Community award recognized Latham and Queen for: "community collaborations that improve outcomes for veteran families impacted by trauma, homelessness, and poverty on behalf of our sacred trust to those who have borne the battle and their loved ones."
Purpose Built Families Foundation is a nationally accredited nonprofit that works towards "a future in which every human being has the opportunity to experience life, liberty and the pursuit of happiness."
The Pembroke Pines-based company advances its mission through "evidence-based, client-centered, holistic services, education, training, technology, research, and related charitable activities that measurably disrupt cycles of poverty and create more resilient families, neighborhoods, and communities."
Source: Purpose Built Families Foundation
Related Media
Additional Links