Chef and Lifestyle Expert Mandy Landefeld Shares Timely Survival Guide on Tips on TV Blog for a Great Holiday
Press Release
•
updated: Nov 21, 2018
Lifestyle Expert Mandy Landefeld, Founder of The Sumptuous Living Blog, Explains How Savvy Shoppers can Save Money and Have Fun.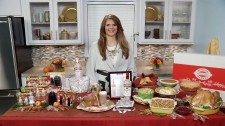 ATLANTA, November 21, 2018 (Newswire.com) - Many people think of the holiday season as something to survive, while others look at it as a fun time to be cherished with family and friends. This year's Holiday Survival Guide is all about making life easier for everyone. The queen of easy meal solutions, Lifestyle Expert Mandy Landefeld, founder of the popular Sumptuous Living blog, is here to help. Mandy has a recipe index for insanely flavorful but simple dishes to serve at any time of day that are perfect for busy families, especially around the holidays. This mother of three will share with Tips on TV Blog some unique holiday survival tips to give more time to make memories. Mandy is passionate about making the everyday easier. Her motto is, "You can have it all and not lose your mind in the process!"
WHERE TO START WHEN PREPARING THE HOLIDAY SURVIVAL KIT
Find ways to save some time, and spend that time with family. This holiday season, Boston Market is helping every family put some joy on that table and get Thanksgiving dinner done right with many different meal options to suit any celebration. They have a Whole Roasted Turkey Meal for twelve, which is a great buy at only $119.99, and there are multiple ways to get it. It comes fully cooked and can be picked up chilled at any Boston Market restaurant prior to the holiday or even have it shipped and delivered directly to your door. Simply re-heat and serve. Check out BostonMarket.com or stop by any restaurant to plan out and order the perfect holiday meal solution. If unexpected guests have you stressed, stop by any Boston Market and pick up hot, ready-to-eat entrees, sides, and desserts. For parties of ten or more, call on them to deliver a Holiday Catering spread right to the home or office. There is simply zero need to stress this holiday season.
ANY BEVERAGE SUGGESTIONS FOR THE HOLIDAYS
Back in time just for the holidays is Smirnoff's limited-time holiday favorite, Smirnoff Peppermint Twist, which is a fun, festive, and affordable must-have for any holiday party! Never go wrong with the signature Smirnoff No. 21 Vodka, which is made right here in America, ten-times filtered, gluten-free, and now made with non-GMO corn. Use both of these to create a delicious Jolly Peppermint Java cocktail, or, for an even simpler way to enjoy Smirnoff Peppermint Twist, it can be easily mixed it into a delicious cup of hot chocolate or enjoyed as a chilled shot. Smirnoff Peppermint Twist can also be used as a festive gift, party favor, or stocking stuffer for friends and family over the age of 21, of course. Remember to drink responsibly. For more information, visit www.smirnoff.com.
SUGGESTIONS FOR GETTING GUESTS IN THE SPIRIT OF THE HOLIDAY
Scientists say that the sense of smell is closely linked with memory, probably more so than any of the other senses. That is why adding fragrance is an easy way to add personality and character to the home, especially during the holidays. Air Wick seasonal scents such as Pumpkin Spice, Woodland Pine, and Merry Cherry Holiday all have natural essential oils and can set the mood and draw the guests in, making them feel welcomed. They come in a variety of mechanisms, including a Scented Oil Warmer, Plug-In Scented Oils, and Essential Mists, which is a first-of-its-kind mechanism that transforms natural essential oils into mist with time bursts of holiday fragrance again and again. Air Wick seasonal scents have the perfect holiday scent with the perfect device to deliver it. For more information, visit www.airwick.us.
www.tipsontv.com
Contact: tipsontv@gmail.com
Source: Tips on TV
Related Media