ChatESG Launches Globally — OpenESG's Generative AI Reboots ESG
Press Release
•
Jun 30, 2023
ChatESG reboots ESG to make sustainability and climate data and insights open, clear and affordable for all.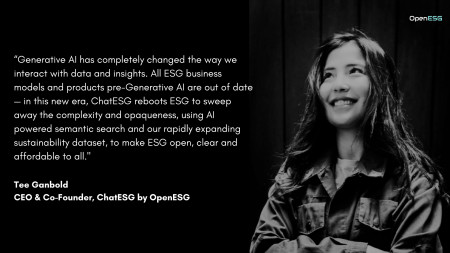 NEW YORK, June 30, 2023 (Newswire.com) - OpenESG announces the global launch of its groundbreaking ChatESG conversational AI — providing access to OpenESG's rapidly growing sustainability database of public companies, SMEs and regulations through intuitive and contextually aware natural language queries.
ChatESG, a product of extensive research and development by the OpenESG team, aims to reshape the way individuals, investors, businesses, and organizations interact with ESG, Sustainability and Climate data, methodologies, standards and verification.
Explore more at https://www.openesg.com/chatesg.
Rebooting ESG with Generative AI
Navigating the labyrinth of ESG data, methodologies, and standards has long been a daunting task. Dense sustainability reports, extensive spreadsheets, complex user interfaces and standards, plus expensive manual supply chain software have made the acquisition of actionable insights a costly, time-consuming challenge.
"Generative AI has completely changed the way we interact with data and insights. All ESG business models and products pre-Generative AI are out of date — in this new era, ChatESG reboots ESG to sweep away the complexity and opaqueness, using AI powered semantic search and our rapidly expanding sustainability dataset, to make ESG open, clear and affordable to all," said Tee Ganbold, co-founder and CEO of OpenESG.
ChatESG integrates business-specific logic and data from SMEs, public companies and partnerships to deliver rapid, verified responses to queries ranging from sourcing sustainable packaging to understanding a company's environmental, social or governance metrics.
A Testament to Innovation and Collaboration
ChatESG was developed by OpenESG's Chief Research Scientist Daniel Ellison, former lead developer at ConsenSys and author of the first smart contract for the Ethereum Name Service; Tee Ganbold, CEO and Co-Founder of OpenESG, previously Co-Founder of Clear AI; David Aikman, former Managing Director of the World Economic Forum; and Frank Meehan, OpenESG's Product Lead who previously co-founded Equilibrium AI, an ESG data software company acquired by FiscalNote.
"We're not perfect, but we're on a mission to make our world a better place," said Daniel Ellison, Chief Research Scientist at OpenESG. "We actively encourage contributions, ideas, and support to the ChatESG database — especially to help companies showcase and enhance the sustainability of their products."
Investing in the Future of Sustainability and AI
ChatESG is backed by an influential group of AI experts including Frank Meehan, former board director at Siri and Spotify; and Alex Halliday, CEO of AirOps — an LLM-powered AI Apps company — with the support of the OpenESG Expert Council.
About OpenESG
OpenESG is committed to leveraging technology to solve the world's most pressing sustainability challenges. Our innovative solutions simplify the understanding and application of ESG, climate, and sustainability data.
Source: OpenESG
Tags