Charity Dinner Gala Celebrating Chongyang Festival Was Hosted by Australia Oriental Media Group
Press Release
•
updated: Oct 30, 2019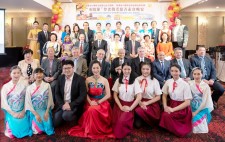 SYDNEY, October 30, 2019 (Newswire.com) - Australia Oriental Media Group (AOMG) announced today that, under the leadership of Jun Hong Lu JP, it co-hosted the Chongyang Festival Seniors Charity Gala Dinner with Australia Oriental Media Buddhist Charity Association (AOMB) in Sydney, Australia, on Oct. 7, 2019. Over 300 guests from Sydney and overseas attended the event.
The Chongyang Festival, according to the Chinese calendar, is a significant day that highlights the importance of respecting the elderly in society.
Distinguished guests from all corners of society, such as Le Lam, Emeritus Mayor of Auburn City Council; Philip Sansom, Emeritus Mayor of Hurstville City Council; Floris Lam, Liaison Officer of Shadow Minister for Industrial Relations Tony Burke MP; Barbara Ward, President of the Rotary Club of Sydney; senior Chinese community leader Huang Qinghui; and Jun Hong Lu JP, Chairman of AOMG and AOMB, delivered opening and welcome remarks. They commended the AOMG for its many years of contribution to the multicultural community and the promotion of traditional Chinese culture.
The gala took the audience on a journey of pleasant and unforgettable performances, ranging from Chinese and Western pop music and classical dance to the most beloved Neapolitan song 'O Sole Mio'. The award-winning vocalist Jenny kick-started the program with her renditions of 'A Song of Yangzi River' and 'Fantastic Peking Opera'. A strong lineup of local performers, including Jianwen Chen, Jing Feng, Harmony, Merlin Chen, and Yunjia, delivered various popular songs, such as 'Last Night Stars', 'Greatest Love of All', and 'I'm Feeling Good'. They expressed their gratitude to the elderly, and their performances resonated with the audience. Performances from the Australia Oriental Media Dance Troupe, such as 'Ode of a Beauty' and 'Xinjiang Folk Dance', showcased the colorful and vibrant Chinese cultures. The event reached its climax with a duet performed by Jianwen Chen and Jing Feng.
Under the leadership of Master Jun Hong Lu, AOMG and AOMB have been devoted to promoting traditional Chinese culture and Buddhism ever since their establishment. With vibrant and colorful art performances, the Chongyang Festival Seniors Charity Gala Dinner has successfully brought together the elderly in our community and raised awareness of showing care and respect to them — a key feature of the Chinese culture. It also provides an opportunity to enhance the cultural exchanges between Australia and China.
Source: Australia Oriental Media Group