Chamness Relocation Solutions is Now Covering the Globe as Chamness WorldWide
Press Release
-
updated: Feb 19, 2018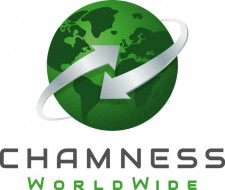 CHANDLER, Ariz., February 19, 2018 (Newswire.com) - Chamness Relocation Solutions – an industry leader in providing destination services in the U.S. and Canada -  announced today that it is changing its name to ​Chamness WorldWide. 
"The new name – Chamness WorldWide – reflects who we are as a company today," said Mary Crump, president of Chamness WorldWide. "As the only destination service provider to offer a truly guaranteed range of services worldwide, we are responsive to the needs of our clients and their global workforce. And there is more to come. With our global presence and next-generation technology, we see significant opportunity to maximize the customer experience."
Darla Chamness, chief executive officer of Chamness WorldWide, said, "Three years ago we laid out our vision to grow the company to support the changing needs of the workforce and our clients. Through the execution of our strategic plan, which includes the recent addition of Gail Rabasca, executive vice president – Global Solutions, we continue to realize this vision as Chamness WorldWide and provide our clients with best-in-class service across the globe."
The new name is effective immediately. The transition to Chamness WorldWide will include changes to the company website, branding and email domains over the course of the first quarter of 2018. 
Chamness WorldWide is a global relocation solutions company specializing in destination services inbound, outbound and country to country across the Americas, EMEA and Asia Pacific. We are the only destination service provider to offer a truly worldwide guaranteed range of country coverage along with a next-generation technology, including a geo-tracking mobile app. Clients benefit from our unique ability to deliver customized destination services programs and real-time updates throughout each phase of the relocation process. Our passion for flawless service execution, consistent in every country we serve from primary to emerging market destinations, creates the ultimate relocation experience and defines the Chamness difference! For more information, please visit our website: www.chamnessrelo.com.
Source: Chamness WorldWide
Share:
---
Categories: Corporate Communications, Human Resources, Destinations
Tags: destination services, human resources, relocation
---