CHAIRMAN'S RESERVE: Sweden Triumphs in Chairman's Reserve International Mai Tai Challenge
Press Release
-
updated: Apr 5, 2018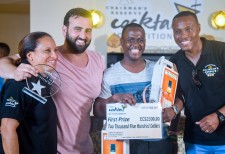 CASTRIES, St. Lucia, November 7, 2017 (Newswire.com) - Last month, top bartenders from around the globe partnered with local Saint Lucian bartenders and battled to claim top honors at THE CHAIRMAN'S RESERVE INTERNATIONAL MAI TAI CHALLENGE — the final stage of the Chairman's Reserve 2017 global campaign to officially adopt the Mai Tai and badge it the brand's official cocktail.
The winning pair, Steve Peter of Saint Lucia and Sharam Mohebbi of Sweden, created a special Mai Tai, which impressed the audience and judges alike with the unique use of local ingredients from the Castries spice market, a beautiful presentation and unparalleled taste. The winning spoils included a shared prize of $2,500 and, additionally, Mr. Peter earned a trip to Sweden. 
WINNING COCKTAIL:
Helen of Tiki
4cl Chairman's Reserve Original
3cl Chairman's Reserve Spiced
3cl Caribbean Sherbet
2cl Ginger spice and passion fruit
2cl Freshly squeezed lime juice
Preparation: Add all ingredients to mixing tin. Add at least two cups of ice and shake well for 15 seconds. Pour over a bed of "bois bandé" in a Calabash bowl. Top with fresh ice.
Garnish: Slice of grapefruit, mint, roasted stick of cinnamon, lime wheel and flowers. Place artistically in bowl.
The Helen of Tiki was artfully inspired by Helen of Troy. According to Greek legend, it was Helen's beauty and elegance that indirectly provoked the Trojan War between Sparta and Troy. "Saint Lucia is renowned as 'Helen of the West Indies.' Her beauty and strategic location caused war between the French and the British during the mid-seventeenth and early nineteenth centuries. We saw it fit to name our cocktail as a tribute, for the Mai Tai is truly the Helen of Tiki," states Mohebbi.
From Oct. 18 - 22, 10 international bartenders were paired with ten Saint Lucian bartenders from various prominent resorts and restaurants to participate as a team in the competition. The represented countries included: The United States, United Kingdom, Sweden, Spain, Portugal and France. In the days leading up to the competition, the international bartenders and local barmen exchanged ideas and methods on international cocktail culture, while also discovering the local lifestyle and heritage of the island. The teams visited Saint Lucia Distillers to receive in-depth education behind the label Chairman's Reserve product knowledge and participated in an educational Master Class about what makes up the DNA of Saint Lucian rum. Also on their agenda was a seminar on Tiki delivered by London's own Georgi Radev and a presentation by Mrs. Sony about Saint Lucia's artisan homemade spiced rums and the true and mythical powers of local Lucian flavors used in spiced rum.
"We are so excited and proud to share our Saint Lucian heritage with this amazing global community," said Margret Monplaisir, Managing Director of St. Lucia Distillers. "It is a great pleasure to see Chairman's Reserve embraced by so many talented bartenders from around the world who share their passion for Saint Lucian rum and how they routinely enjoy working with Chairman's Reserve in classic and contemporary cocktails."
Chairman's Reserve European Brand Manager, Philip Gilier continues, "Being a blend of a variety of pot still and Coffey still rums, Chairman's Reserve stands as an ideal English-style rum representative for the classic Mai Tai recipe. It was wonderful to learn how Chairman's Reserve has been embraced by UK Tiki specialist Georgi Radev (Mahiki London) as he spoke about Tiki culture cycling back to the cocktail community.
The 2017 re-launch of Chairman's Reserve has been centered around the brand's original roots and its unparalleled fit into the ever-growing cocktail culture. The brand chose the Mai Tai as its signature cocktail because of its natural fit in the Mai Tai's traditional recipe, and because it provides bartenders the opportunity to discover the pedigree of the brand. "Dynamic events, especially those centered around classic cocktails, have become a mainstay in our industry," commented Benjamin Jones, Chairman's Reserve North American Brand Manager. "Chairman's Reserve has seized the opportunity to showcase Saint Lucia's proud legacy as a world-class rum producer, with heritage unique to its own as a pillar in the English-style rum category".
About St. Lucia Distillers
St. Lucia Distillers Ltd. is located in the agricultural Roseau Valley of Saint Lucia. The intimate distillery is set back amid banana and sugarcane crops, with old steel cranes once used to hoist sugar loads emerging from the lush valley. The distillery itself is a few thousand feet from its own receiving facility, which feeds the molasses that is now imported from Guyana. St Lucia Distillers produces many varieties of rum including Chairman's Reserve, as well as Denros Double Strength rum, Bounty premium rums and Admiral Rodney rum.
Media Contact: Benjamin Jones
ben.jones@spiribam.com
Source: Chairman's Reserve
Share:
---
Categories: Food and Beverage Services, Hospitality, Travel, Vacations and Travel, Food Sciences
Tags: Chairman's Reserve, cocktail, Island, Mai Tai, Rhum, Rum, Spiribam, St. Lucia, St. Lucia Distillers, Travel
---