Cesar Millan Joins B-Air to Launch the New Fido Max-1 Dog Dryer to Make Every Member of the Pack Happy and Healthy
B-Air is partnering with renowned dog behaviorist Cesar Millan to promote healthy, safe pet grooming techniques for all pet lovers
Press Release
-
Oct 5, 2016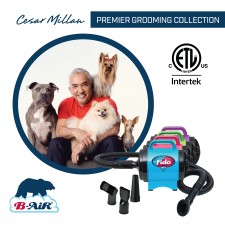 Los Angeles, CA, October 5, 2016 (Newswire.com) - Cesar Millan, the star of the Dog Whisperer With Cesar Millan and Cesar Millan's Dog Nation TV shows, is joining B-Air to launch the new Fido Max-1 Dog Dryer that will make the washing and grooming experience for all pets more enjoyable, efficient and cost effective.
As the proven expert dog behaviorist for the past 20 years, Millan has worked to rehabilitate and save dogs with common misbehaviors. His unique knowledge of dog behavior was used to formulate the design principles of B-Air's Fido Max-1 Dog Dryer for use in-home and in professional grooming shops. B-Air is excited to partner with Millan to provide a more relaxing, enjoyable grooming experience for pets.
"Pets are a big part of our lives and our culture, and we believe that they should experience the same level of care, comfort and health that we all desire. We wanted to introduce to all dog owners our learned experiences from working with dog groomers for over two decades," said Eddie Demirdjian, B-Air CEO.
Many pet owners take their furry family members to professional groomers, but as reported by the American Kennel Club in 2015, up to 70% of dog owners still wash and groom their dogs at home. With this increase of home grooming, many pet owners only use a towel or regular hair dryer leaving the fur coat damp, which could lead to illness and bacteria build-up, or being subject to extreme heat from the human hair dryer irritating their skin and increasing their body temperature.
This is why B-Air has developed the Fido Max-1 Dog Dryer that is designed as a lightweight, easy-to-carry dryer with a two-speed motor insulated for quiet operation, a high RPM on the turbine motor that warms the air slightly without a heating element, rubberized feet for stability during operation and removable filters for simple cleaning. Packaged with a set of four nozzles specifically designed for various types of coats and sensitive skin, the Fido Max-1 is ideal for regular full grooming or even a quick dry after a damp day outside.
"Regular grooming of your dog is important because it can help prevent common illnesses, and create a safe and clean environment for your entire family. I want to take the secrets of the grooming world and partner with B-Air to introduce a practical tool for healthy and well-groomed dogs year around," said Millan.
With a proven history of working with pet industry experts like world-renowned grooming judge Mario DiFante and others, B-Air is thrilled to combine their long-standing merit of innovative, safe grooming products with Millan's insight into dog behavior.
The B-Air Fido Max-1 Dog Dryer will be available for pre-orders beginning October 5 on Amazon.com and the delivery date will be November 1. For more information about this outstanding dryer, visit www.b-air.com/cesarmillan.
About B-Air (Intertex):
For almost two decades, B-Air has developed and manufactured air movers, dryers, blowers, dehumidifiers and ventilators for commercial and retail use. B-Air prides itself on creating the highest quality products to supply the needs of the ever changing and evolving industries it serves. B-Air products are designed and engineered in California ensuring attention to detail and the highest standard of quality. Leading the industry when it comes to the inflatable and pet industries, B-Air is positioned to become a market leader in the water restoration and janitorial industry having already become the go-to company for quality air movers, dehumidifiers, scrubbers, water damage restoration equipment and more. With accolades by reputable organizations, B-Air continues to uphold its core objectives: to develop superior products with exceptional customer service. For more information visit www.B-Air.com. Follow B-Air on Facebook (bairproducts), Twitter (@bairproducts) and Instagram (bairproducts).
About Cesar Millan:
New York Times best-selling author and twice Emmy-nominated television personality Cesar Millan has earned a trusted reputation as the preeminent authority in the field of dog rehabilitation. With more than 25 years of experience working with canines, Millan uses a philosophy of trust, respect and love to rehabilitate aggressive, frightened and neurotic dogs while educating owners on how their own behavior affects their pets. Millan extends his reputation in dog training and care through retail and home entertainment products, books and Cesarsway.com, which have become top resources for dog help and advice; through the ongoing work of the Cesar Millan Pack Project; and through connecting with TV audiences via his television series, Cesar 911. For more information, visit www.cesarsway.com. Follow Cesar on Facebook (cesar.millan), Twitter (@cesarmillan) and YouTube (CesarMillan).
Source: B-Air
Share:
---
Categories: A&E News, Pets, Arts and Entertainment, Business
Tags: bair products, business, cesar millan, dogs, entertainment, grooming, lifestyle, pets, products, television
---