B-Air Joins Efforts With Mercedes-Benz to Build a State-of-the-Art Vehicle for Water Damage Restoration
The Mercedes-Benz Ultimate Drying Vehicle (UDV) by B-Air, is the Leading Specially Designed and Fully-Equipped Water Damage Restoration Mobile Solution in the WDR Industry
Press Release
-
Sep 6, 2016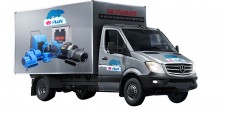 Los Angeles, CA, September 6, 2016 (Newswire.com) - As one of the leading companies in the water damage restoration industry, B-Air is once again raising the bar of excellence and partnering with Mercedes-Benz to launch the Sprinter Ultimate Drying Vehicle (UDV) by B-Air outfitted with the highest quality equipment and specially engineered to efficiently address all water damage restoration situations.
Mercedes-Benz is one of the most recognized automotive brands in the world with well over 100 years of excellence and ingenuity attached to their name. When B-Air decided to design a water damage restoration vehicle, there was no other company that was more qualified than Mercedes-Benz. With an unmatched warranty and low-cost maintenance, the Mercedes-Benz Sprinter UDV is one of a kind with a 6-Cylinder 3.0 BlueTEC® Turbocharged Diesel Engine, ergonomic interior, high roof, 170" wheelbase, packed with technology, custom storage cabinets, B-Air mounting brackets and many more detailed features that have been influenced by Mercedes-Benz automotive technology and customized by B-Air engineers with close collaboration by water damage contractors. As If that was not enough the Mercedes-Benz Sprinter is also rated at 4.5 out of 5 Stars by Car & Driver.
The UDV is designed to accommodate various combinations of B-Air commercial dehumidifiers, air movers, specialty air movers and scrubbers to respond to any water damage situation. It offers the most intelligent and effective use of space and energy in water damage restoration response units.
"For many years, B-Air has upheld the standards of excellence, quality and reliability. When seeking out a partner for this new venture, we knew Mercedes-Benz was the best company given their history of outstanding vehicles and reputation," said B-Air President - WDR- Jan /San Division, Greg Aghamanoukian.
In a world where many businesses want to sell a product to increase sales and stock portfolios, it is refreshing to know that companies like B-Air and Mercedes-Benz are joining forces to help bring relief to homes and companies who have experienced the devastation of water damage. Just as the many people in Louisiana who recently experienced major flooding could attest, there is no greater partnership than one that helps bring relief and repair to devastated lives and communities.
B-Air will be premiering the first UDV at the B-Air booth at The Experience Show in Las Vegas on September 7, 2016.
For more information, please contact B-Air Press Department at 877-800-2247.
About B-Air (Intertex):
For almost two decades, B-Air has developed and manufactured air movers, dryers, blowers, dehumidifiers and ventilators for commercial and retail use. B-Air prides itself on creating the highest quality products to supply the needs of the ever changing and evolving industries it serves. B-Air products are designed and engineered in California ensuring attention to detail and the highest standard of quality. Leading the industry when it comes to the inflatable and pet industries, B-Air is positioned to become a market leader in the water damage restoration and janitorial industry having already become the go-to company for quality air movers, dehumidifiers, scrubbers, water damage restoration equipment and more.  B-Air continues to uphold its core objectives: to develop superior products with exceptional customer service. For more information visit www.B-Air.com.
Source: B-Air
Share:
---
Categories: Business Technology, Automotive, Business
Tags: automotive, b-air, business, disaster relief, floods, mercedes benz, repair, restore, water damage restoration
---