Certified Aviation Services "Welcomes New Interns"
Press Release
•
updated: Mar 23, 2017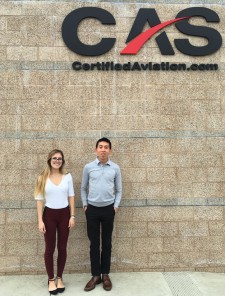 Ontario, California, March 23, 2017 (Newswire.com) - Certified Aviation Services, LLC (CAS) is pleased to announce the addition of Katherina Zecca and Milton Tan, as interns in its headquarters location. The internship program Certified Aviation Services offers allows aviation focused students to develop their skills within the industry.
Katherina Zecca is bilingual in English and Spanish. Ms. Zecca is pursuing a Bachelors in Environmental Engineering, from the University of Riverside. Milton Tan is also bilingual in English and Chinese. Mr. Tan is a recent grad from Embry-Riddle Aeronautical University and received a Bachelors in Aviation Business Administration.
Both Ms. Zecca and Mr. Tan bring enthusiasm and diverse backgrounds to the company. CAS Chairman, Mark Lee, has been a leader in the intern program. He said, "CAS is a strong proponent of the intern program. The program helps introduce promising students to the opportunities within the airline and aerospace industry. It also brings new ideas into the company by having interns introduce some of the latest education and technological thinking, to members of the management and staff, who may be a few years removed from the formal education process. The cross-fertilization is good for both sides."
Certified Aviation Services is pleased to welcome them and looks forward to their contributions to CAS.
About Certified Aviation Services:
CAS (Certified Aviation Services) is a leading provider of MRO services for fleet operators around the world. Throughout our nationwide network, CAS offers a wide range of aircraft and component repair services that provide our customers innovative, cost-effective solutions when and where they need it. Backed by more than 200 world-class A&P mechanics and 25+ years of service, CAS is one of the most experienced MRO services providers in the world. For more information, visit www.certifiedaviation.com
For further information, please contact:
Paulina Vivanco, Marketing Coordinator
909 458 6491
pvivanco@certifiedaviation.com
Source: Certified Aviation Services