Cell Tower Expert Offers Free Consultation to Get Highest Lease Rates for Landowners
Press Release
•
updated: May 30, 2018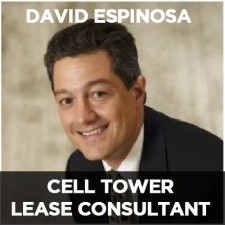 ATLANTA, May 30, 2018 (Newswire.com) - There are many landowners around the nation who are faced with the ongoing issue of cell tower leases. Whether they are currently under contract, just been offered one or are about to extend their current cell tower lease, they are often left in the dark when it comes to knowing what they can do to maximize their earnings and property values. Without having a well-experienced cell tower expert on their side, there is a good chance they are not doing enough to ensure they are getting out of the arrangement what they deserve. TowerLeases.com is out to change that by offering landowners a free consultation regarding their current cell tower lease.
"I've worked with enough cell tower contracts over the years that the vast majority of landowners are getting the short end of the deal," explains David Espinosa, president of TowerLeases.com. "Those who have chosen to let me put my expertise to work for them are amazed at the deal they are able to finalize with their cell tower leases. You need to have someone on your side who understands the ins and outs of cell phone tower leases or you will not get the lease you can get."
My goal with every leaseholder that I work with is to help them get the fair market rate they deserve.

David Espinosa, President of TowerLeases.com
Espinosa is a leading cell tower lease expert in the country, having helped countless landowners to negotiate better contracts. He offers leaseholders a free consultation. With one 30-minute free cell tower lease consultation, he is able to determine some of the pitfalls that leaseholders have been subjected to and can point them in the right direction to help correct things and get them a much better contract.
Some of the frequently asked questions that cell tower leaseholders have for him include: Why a company would want a lengthy lease, how long a cell tower lease should be structured, how a cell tower impacts property values, how they should handle cell tower lease buyouts and what the current cell tower rates are in 2018. The answers to these questions, as Espinosa points out, can be complex and vary for each situation and market. This is because there is no set cell tower rates, for example, as there are many geographic factors that will impact what the contract is worth, including location, zoning laws, competing structures, and more.
"My goal with every leaseholder that I work with is to help them get the fair market rate they deserve," added Espinosa. "If cell tower leaseholders don't have someone like me in their corner, then it is most likely that they are leaving a lot of money on the table. It's as simple as that."
Espinosa has over 14 years of experience in working with cell tower leaseholders, helping them to get the best possible rates and terms. He routinely helps those with Crown Castle cell tower leases, Verizon cell tower leases, AT&T cell tower leases, lease extensions, and others. His services are aimed at helping those in all phases of cell phone tower leases, including contract renewals, extensions, buyouts, new contracts, and more. Both public entities and private landowners utilize his services. He has the experience that is needed to achieve the results into helping landowners get a fair contract, including land locations, regulations, zoning laws, competition, property values, and more.
TowerLeases.com are cell phone tower lease negotiation experts. Along with getting people the maximum revenue, they also help to negotiate terms that have the landowner's best interest in mind. Not only do they help negotiate better rates and terms, but they can also share insight on tax-saving advice on the additional revenue being earned. Learn more about the company and how they can increase an owner's cell tower lease rates. For a free 30-minute consultation regarding cell phone tower leasing, call (866) 746-8907.
About TowerLeases.com
Located in the Atlanta area, TowerLeases.com serves the entire country with cell tower lease consultation and negotiation services. Their mission is to help protect those leasing their land and buildings for cellphone towers. They offer a free consultation to see if their services would be a good fit for those already leasing their land for a cell tower and those considering doing so. For more information on the company, visit their site at www.TowerLeases.com. For a free 30-minute consultation regarding cell phone tower leasing, call (866) 746-8907.
Source: TowerLeases.com
Related Media
Additional Links