CBEC 2017: eWorldTrade Participates in the Cross Border E-Commerce Conference
Press Release
•
updated: Sep 28, 2017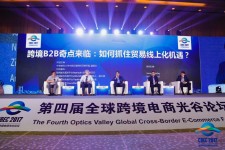 WUHAN, China, September 28, 2017 (Newswire.com) - Earlier this month, on the 8th and 9th of September, Mr. Noman Javed, representing eWorldTrade, attended the Fourth Optics Valley Global Cross Border e-commerce (CBEC). CEO of CBEC, Yuhong Zheng During organized it with the joint support of Wuhan municipality and the Department of Commerce of the Hubei Province, in China.
This year's forum carried the theme of "New Connection, New Business Form, and New Growth Driver". After the forum's start in 2014, its aim has always been to promote and develop enterprises through cross-border e-commerce.
A huge number of business personalities attended the forum and took part in discussions and keynote speeches. Chen Zhen, General Manager of Facebook China, SMEs along with Bai Yong, General Manager of Google Great China Region were some of the leaders present at CBEC.
CBEC is one the largest e-commerce conferences in the world and eWorldTrade represented Pakistan's e-commerce B2B industry at a global level.
Mr. Javed, co-founder of eWorldTrade, addressed quite a few issues that the Pakistan e-commerce B2B industry and Pakistan e-commerce industry in general faces today. The e-commerce industry is a fairly new addition to the trade world in Pakistan but has already taken off better than in most countries and the problems are being solved rapidly.
He also explained in his speech how the One Belt, One Road, CPEC project would help enhance the ecommerce trade market locally and internationally for not just China and Pakistan, but the rest of the world as well. CPEC would make cross-border trading and logistics easier. It would also allow for faster shipments of products at the lowest prices across the globe.
The China-Pakistan Economic Corridor is a huge infrastructure project throughout Pakistan that was originally valued at $46 billion but is now worth $62 billion. CPEC will specifically improve trade for Pakistan and the Republic of China but also Iran and Afghanistan. His presence at the Global Cross Border E-commerce Forum also strengthened the Pakistan-China relationship even further.
The co-founder's speech included suggestions on how cross-border B2B ecommerce could improve and meet its demands in reality, how it has impacted small and medium enterprises to promote their business internationally an option that would enhance the e-commerce structure to a whole new level.

About eWorldTrade
eWorldTrade.com is a subsidiary of Reckon Media LLC in United States, a B2B e-commerce platform that connects businesses globally. It is a U.S.-based e-commerce enterprise, with its operational unit in South Korea, Nigeria, China & Pakistan. eWorldTrade is structured to be one of the most transparent global B2B marketplace converging millions of potential wholesalers, buyers & sellers under one hood. The emerging B2B platform not just offers its digital platform to connect buyers and sellers but also offer extensive Digital branding services including: SEO, SEM, SMM and Community Management.
Contact Information
Jonathon Stillman
PR Executive
Pacific Place, 1910 Pacific Ave, Dallas, TX 75201, United States
Phone: +1 (214) 247-7153
Email: info@eworldtrade.com
Source: eWorldTrade
Related Media