Catchings-Smith Installed as Chair of NPHC Council of Presidents
Press Release
-
updated: Sep 19, 2018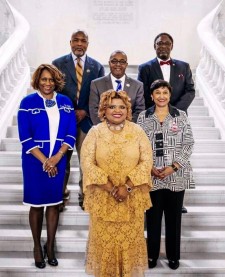 CARY, N.C., September 19, 2018 (Newswire.com) - National Pan-Hellenic Council (NPHC) announced Thursday the installation of Deborah Catchings-Smith, International President, Sigma Gamma Rho Sorority, as chair of the NPHC's Council of Presidents for a one-year term effective immediately. 
In this role, Catchings-Smith will preside over meetings of the COP and will be its highest-ranking member. The council is composed of the elected president of each member fraternity and sorority, known as the "Divine Nine"--- Alpha Phi Alpha Fraternity, Inc., Alpha Kappa Alpha Sorority, Inc., Kappa Alpha Psi Fraternity, Inc., Omega Psi Phi Fraternity, Inc., Delta Sigma Theta Sorority, Inc., Phi Beta Sigma Fraternity, Inc., Zeta Phi Beta Sorority, Inc., Sigma Gamma Rho Sorority, Inc., and Iota Phi Theta Fraternity, Inc.
The COP is responsible for the broad general policies of the NPHC and directing the national executive board of directors regarding activities executed on behalf of the organization.
"I'm honored to work with my colleagues and seek new ways to collaborate with the Divine Nine organizations and identify opportunities or address issues that face our organizations, communities and the nation," Catchings-Smith said. 
About National Pan-Hellenic Council
Founded in 1930 on Howard University's campus in Washington, D.C., the National Pan-Hellenic Council is focused on fostering cooperative actions among its members in dealing with matters of mutual concern. The NPHC promotes the well-being of its affiliate fraternities and sororities, facilitates the establishment and development of local councils of the NPHC and provides leadership training for its constituents. The organization is comprised of local councils drawn from the ranks of 1.5 million college and professional members of the nine historically African-American fraternities and sororities, the Council of Presidents and its partner organizations. www.nphchq.org
About Sigma Gamma Rho Sorority
Sigma Gamma Rho Sorority, Inc., an international collegiate and non-profit community service organization, was founded in 1922 on the Butler University campus in Indianapolis. It has welcomed more than 90,000 members who have joined the organization as undergraduates and professionals. Official affiliate groups include Rhoer Club (young girls) and Philos (friends of the sorority). The sorority has more than 500 chapters in the United States, Bahamas, Bermuda, Canada, Germany, South Korea and the U.S. Virgin Islands. It is the mission of the sorority to enhance the quality of life for women and their families in the U.S. and globally through community service. Programs, initiatives, and partnerships are devoted to progress in the areas of education, healthcare, political action, and leadership development. The sorority is headquartered in Cary, North Carolina, and is a member of the National Pan-Hellenic Council's "Divine Nine."  For more information, visit www.sgrho1922.org.
Contact: Cheryl Procter-Rogers, 847-454-7400, Cheryl@AStepAheadPR.com                                      
Source: Sigma Gamma Rho Sorority, Incorporated
Share:
---
Categories: African American, Legislative Branch/Congress
Tags: Congressional Black Caucus, HBCU, National Pan Hellenic Council, Sigma Gamma Rho Sorority
---