CAS Successfully Performs 12-Year Heavy Maintenance Check
Press Release
•
updated: May 2, 2018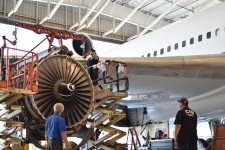 ONTARIO, Calif., May 2, 2018 (Newswire.com) - Certified Aviation Services LLC (CAS), a leader in aerospace and defense technologies, is honored to announce they have successfully integrated additional capabilities with Orbital ATK by performing a 12-year heavy maintenance check on the last operating L-1011 aircraft. The heavy maintenance visit included structural inspections and Corrosion Prevention and Control Program (CPCP).
The L-1011 aircraft was delivered to CAS' facility in Ontario, California. The project was completed 18 days earlier than the projected finish date. CAS conducted the inspection in accordance with the Orbital ATK L-1011 heavy maintenance inspection program, including structural inspections of all zones. CAS removed engines 1 and 3 to conduct the non-destructive inspection (NDI) of the engine mount bolts.
Michael Scanlon, CAS' vice president of operations, stated, "Orbital ATK has been a customer for over 25 years. CAS has assisted Orbital ATK with over 40 Pegasus rocket launches, as well as several maintenance checks. CAS plans to continue to support Orbital ATK."
About Certified Aviation Services:
CAS (Certified Aviation Services) is a leading provider of MRO services for fleet operators around the world. Throughout our nationwide network, CAS offers a wide range of aircraft and component repair services that provide our customers innovative, cost-effective solutions when and where they need it. Backed by more than 300 world-class A&P mechanics and 25-plus years of service, CAS is one of the most experienced MRO services providers in the world. For more information, visit www.certifiedaviation.com.
For further information, please contact:
Paulina Vivanco, Director of Marketing & Communications
909-210-0751
​sales@certifiedaviation.com
Source: Certified Aviation Services
Related Media