CAS is Awarded the Maintenance Approval Certificate From the Republic of Indonesia
Press Release
-
updated: Jun 5, 2019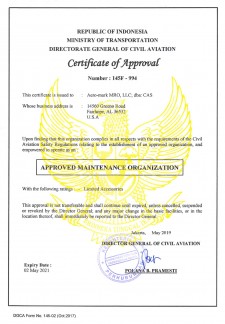 FAIRHOPE, Ala., June 5, 2019 (Newswire.com) - Certified Aviation Services, LLC (CAS), is proud to announce it has been awarded the Maintenance Approval Certificate from the Republic of Indonesia, Ministry of Transportation, Directorate General of Civil Aviation (DGCA). The scope of this certificate covers work for CAS' component repair shop in Fairhope, Alabama.
The DGCA requires its candidates to assemble a safety management system (SMS). While the SMS is suggested by the FAA, it is a mandatory requirement in order to receive the DGCA. The completion of CAS' SMS not only enhances the safety of its employees and customers but also shows its commitment that safety and quality standards are continuously met. 
The certification authorizes CAS' component shop to not only complete component repair and overhaul services for airlines of Indonesia, but also with aircraft part brokers that work in company with the particular airlines.
Brad Caban, CAS' president of components, stated, "Over the years, CAS has enjoyed a close relationship with Indonesian airlines through its AOG Go Team. We are excited to strengthen the relationship with our component repair and overhaul services. The addition of the DGCA certificate has pushed us forward to create an SMS and embrace the new safety enhancements. We look forward to helping the air carriers of Indonesia with our world-class repair services as well as assisting our current aircraft parts brokers."
About Certified Aviation Services:
Certified Aviation Services (CAS) is a leading provider of MRO services for fleet operators, leasing organizations, OEMs and adjusters globally. Backed by more than 300 world-class A&P mechanics and more than 25 years of service, CAS is one of the most experienced MRO service providers. Throughout our nationwide network, CAS conducts line maintenance, modifications, installations, component overhaul and engine services, as well as heavy recovery and repairs. Each division is committed to providing our customers with innovative, cost-effective solutions when and where they need it. To learn more, visit www.certifiedaviation.com.
For further information, please contact:
Jacqueline Monarrez, Marketing Coordinator
+1-909-458-6462
​sales@certifiedaviation.com
Source: Certified Aviation Services
Share:
---
Categories: Aviation
Tags: Alabama, Authorization, Aviation, CAS, Certificate, Civil, Component, DGCA, Fairhope, Indonesia, MOB, Republic of Indonesia
---