CarSwap App Acquires CarSwapper Website
Press Release
•
updated: Mar 21, 2018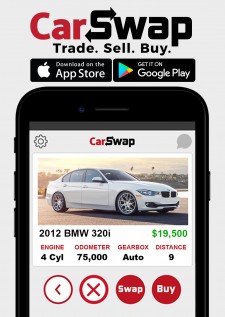 Sydney, Australia, March 15, 2018 (Newswire.com) - ​CarSwap, the largest and fastest growing mobile platform for vehicle trading, has completed the acquisition of the CarSwapper.com.au website for an undisclosed sum.
The acquisition comes just weeks before the launch of CarSwap's web classifieds platform to compliment CarSwap's mobile app for Apple iOS and Android operating systems.
We're pleased to now be a part of the CarSwap team, an organisation who is truly striving to innovate and ease the process for users to change cars from their current car to their next.

Stan, CarSwapper Founder
"We're pleased to now be a part of the CarSwap team, an organisation who shares the same vision for innovating and easing the process for vehicle owners to change cars" said Stan, CarSwapper Founder.
"Thanks to this special arrangement, CarSwap can now expand its web reach and user base to help more people trade, sell, and buy cars fast and free" says Cyrus Rafizadeh, CarSwap Co-Founder.
Also known as the "Tinder for Cars" by its intelligent matchmaking interface, CarSwap is proving to be the fastest, easiest, and free-est automotive classifieds platform.
Within the CarSwap app, a 'Lowball-Filter' automatically rejects unrealistic offers ensuring users receive the highest quality and most valid offers possible, while also protecting car dealerships from having to pay for poor quality enquiries and clicks, which many other platforms depend on for revenue generation.
CarSwap is available free for download via Apple Store for iOS and Google Play for Android.
Source: CarSwap