CarBuzz Announces 2020 Awards Finalists
Press Release
•
updated: Dec 11, 2020
The competition was tougher than ever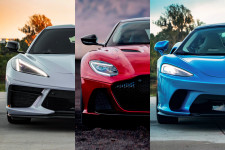 SAN FRANCISCO, December 11, 2020 (Newswire.com) - After extensive research and analysis, the finalists for the 2020 CarBuzz Awards have been announced by CarBuzz. These Awards identify class-leading vehicles reviewed during 2020 across ten categories. "Despite canceled car shows and travel restrictions this year, carmakers have ensured we get to see and drive their latest models," said Adam Lynton, CarBuzz Editor-in-Chief. "We have tested and reviewed over 500 cars this year. Winners will be announced on December 21, 2020."
People's Car
For the best all-round vehicle that sells for less than the average new car transaction price (based on starting MSRP).
2021 Kia K5

2020 Mazda CX-30
Family Fun
The winner will be the vehicle, costing less than $40,000, with enough space for all family members and their cargo, while still delivering some enjoyment.
Save The Planet Car
For the vehicle that offers excellent efficiency without sacrificing quality, desirability, and enjoyment.
2020 Hyundai Sonata Hybrid

2020 Porsche Taycan Turbo S

2021 Toyota RAV4 Prime
Off-Road Warrior
Nominees include trucks/SUVs offering the most enjoyment on unpaved roads across various forms of off-roading, catering to a range of driver skill sets.
2020 Jeep Gladiator Mojave

2020 Toyota Land Cruiser
Tech Lover's Dream
For the car boasting the coolest features pertaining to safety, comfort, and performance. Innovative, fresh elements receive higher consideration.
2020 BMW M8 Gran Coupe

2021 Cadillac Escalade

2021 Mercedes-AMG GLS 63
Surprise of The Year
Nominees are those that have taken the biggest leap forward from a previous generation, are most improved, or over-deliver in intended function.
2020 Buick Encore GX

2020 Nissan Sentra
Poster Car
For the vehicle that is most likely to serve as inspiration for automotive enthusiasts by its combination of beauty and performance.
2020 Aston Martin DBS Superleggera Volante

2020 Chevrolet Corvette Stingray

2020 McLaren GT
Family Luxury
These nominees have no cap on price; comfort and opulence are heavily weighted, although spacious interiors are also important.
2021 Cadillac Escalade

2021 Audi A6 Allroad
Best Interior
For the vehicle with the most impressive cabin across price ranges. A less expensive car can compete with exotics by offering a stellar interior for its price point.
2020 Bentley Flying Spur

2021 Rolls-Royce Ghost

2020 Ram 1500 Limited
Track Weapon
Power, driving feel, braking efficiency, and drama are important here; the winner will be the vehicle that enthusiasts would most want to race around the track.
2020 Lotus Evora GT

2020 Chevrolet Corvette Stingray

2020 Nissan GT-R Nismo
To be considered, vehicles had to be available for a week-long test drive or first drive event during 2020. Road car testers have no affiliation to any carmaker; finalists and winners are selected on merit alone. Winners will be announced on Dec. 21, 2020.
Press Contact: Jared Rosenholtz
Phone: (267) 760-5617
Email: jared@carbuzz.com
Source: CarBuzz
Additional Links